Yu Named Elkins Professor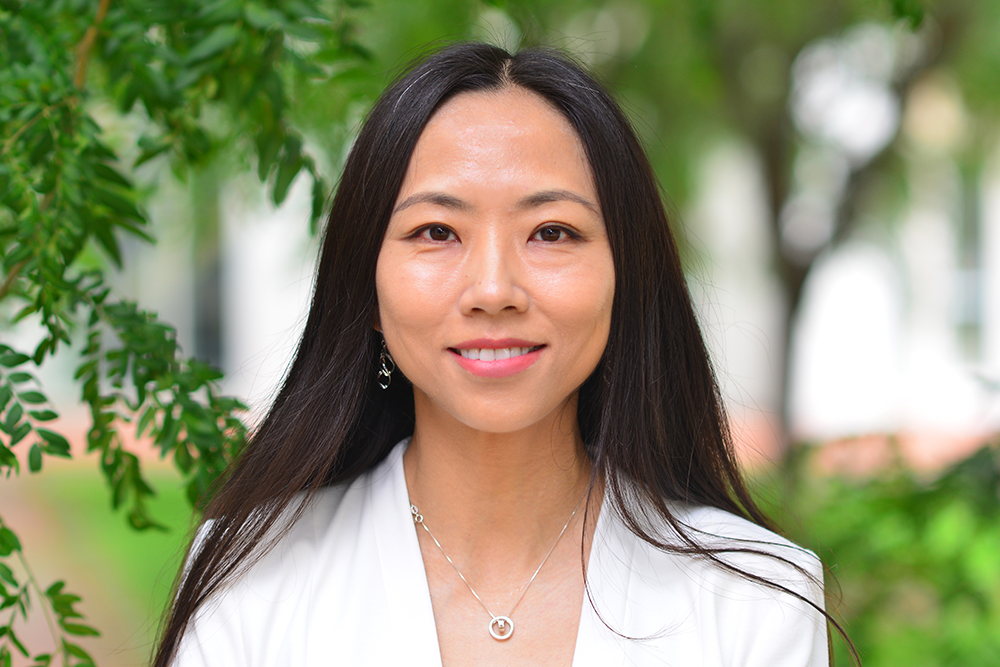 Professor Miao Yu (ME/ISR) has been selected by the University System of Maryland for the prestigious Wilson H. Elkins Professorship. She is the third Clark School and Mechanical Engineering faculty member to be named to the professorship, following Jim Duncan and Don DeVoe, and is the first female Clark School faculty member to be honored in this way.
Yu will receive $60,000 to support her work on advancing underwater monitoring for understanding of marine ecosystem dynamics to promote sustainability.
Since 2020, she has been leading a multi-institutional and interdisciplinary endeavor that sets out to revolutionize outdated and environmentally destructive aquaculture practices by taking advantage of developments in robotics, autonomy, and AI. The project, which promises to revitalize the industry by making it easier to pinpoint market-sized shellfish, has received $10 million in funding from the United States Department of Agriculture (USDA) National Institute of Food and Agriculture (NIFA).
Part of the Elkins award will go towards funding a graduate student, two undergraduate students, and two high school students on the project, while also supporting continued collaboration with the University of Maryland Eastern Shore and the University of Maryland Center for Environmental Science (UMCES).
While the aquaculture project sails full-speed ahead, Yu also hopes to extend the development of monitoring solutions to freshwater ecosystems such as lakes and rivers.
She is bringing her expertise with sensing technologies to bear on two new, National Science Foundation (NSF) Ideas Lab on Engineering Technologies to Advance Underwater Science efforts aimed at improving underwater and under ice monitoring.
In one, the NSF awarded $1.5M to a four-institution team, with Yu as the UMD PI receiving $689K will develop technologies capable of delivering more precise measurements of ice accretion and melt on frozen bodies of water, particularly at the boundary point where the ice and water meet. Novel metamaterials–that is, engineered materials whose structure is manipulated in order to yield particular properties–will be used to develop a new technology tool to track ice thickness and image the internal structure of the ice.
"My efforts are centered around how we can enhance our understanding of ecosystems and how they contribute to climate change in the long term."
This new tool, envisaged by Yu and colleagues at Rutgers, NSF Bigelow Laboratories, and UC Davis is intended to help overcome the limitations presented by current methods and achieve higher-resolution imagery and better quality data for predicting climate-related ice layer loss from lake ice to ice shelves in Antarctica.
On Thursday (August 24), the NSF announced funding for another $1.5M five-institution collaborative Ideas Lab project, "Light in the Dark: Fiber Optic Sensing of Climate-Critical Carbon Cycle Components at Water/Ice-Air Interfaces." Yu is the UMD PI. Supported by $499K in NSF funding, her team will work to develop a sensor that can aid in monitoring water quality in freshwater lakes throughout the year–even during the iciest months of winter, when monitoring costs until now have often been prohibitive.
Yu joined the UMD faculty in 2005, having completed her Ph.D. at Maryland and her undergraduate and master's degrees at Tsinghua University. She received an NSF CAREER Award and an Air Force Office of Scientific Research Young Investigator Program Award in 2007, and was honored with a USM Regents Faculty Award in 2019. She is an ASME Fellow and also a past director of the Maryland Robotics Center, where she launched the Do Good Robotics initiative.
Although her research interests are broad, they are united by a common theme of using advanced sensing technologies to yield solutions to environmental sustainability problems, particularly those linked to climate.
"My efforts are centered around how we can enhance our understanding of ecosystems and how they contribute to climate change in the long term," Yu said.
The Elkins Professorship was established in 1978 as the first permanently endowed, university-wide professorship at the University of Maryland. It was extended to the entire University System of Maryland (USM) in 1988.
It is named for former University of Maryland President Wilson H. Elkins, who served from 1954 to 1978.
Published August 28, 2023