Oh, the logistics!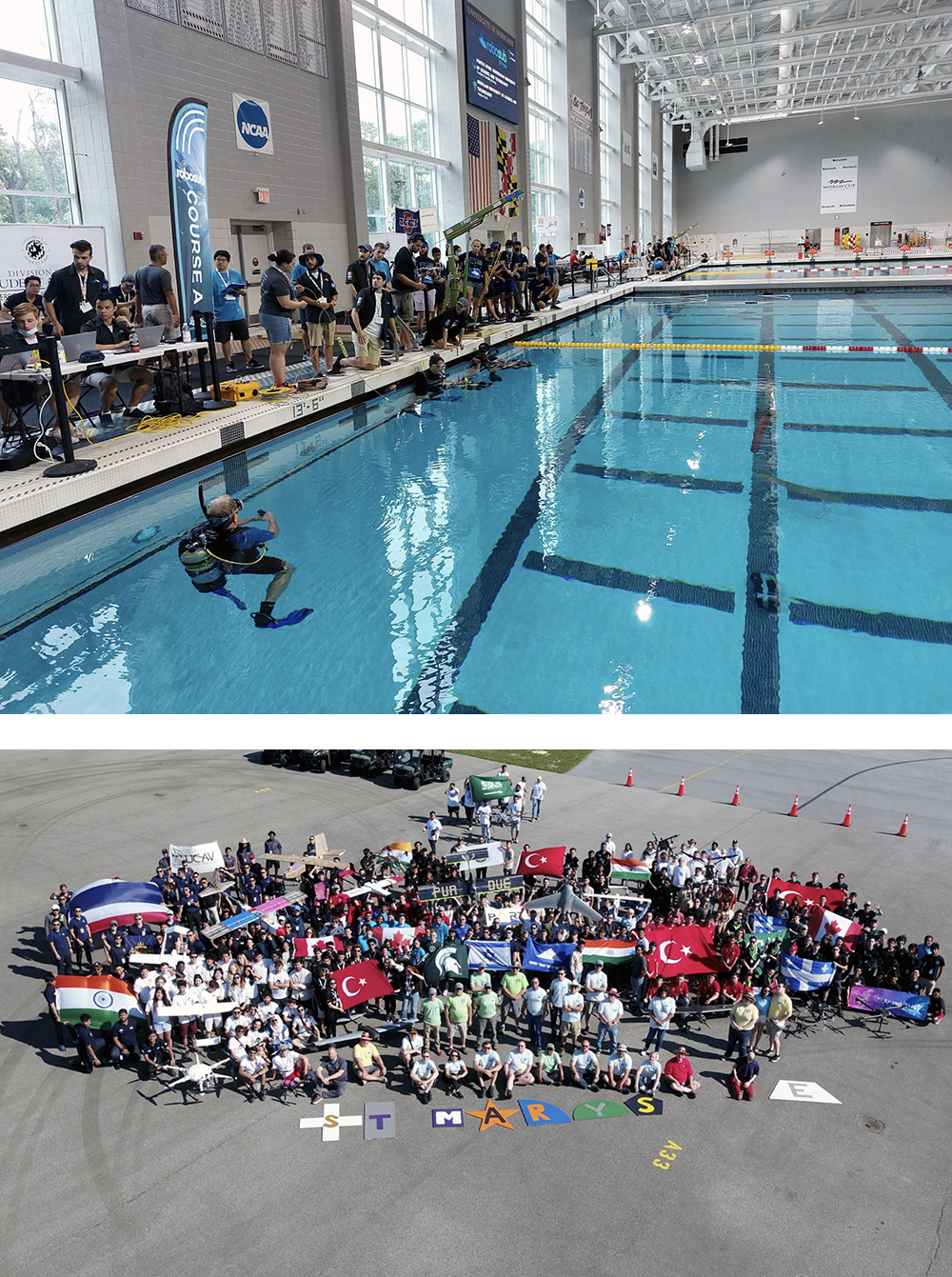 This summer, the University of Maryland (UMD) hosted three international student robotics competitions sponsored by the non-profit educational organization RoboNation: SeaPerch, its K-12 remotely operated submarine challenge; SUAS, its Student Unmanned Aerial Systems challenge; and RoboSub, its autonomous underwater vehicle challenge.
The university provided competition facilities, housing, dining and team meeting spaces to several thousand international K-12, undergraduate and graduate student participants, their families and mentors. In addition, UMD offered the participants the chance to visit its specialized robotics facilities, including the Maryland Robotics Center's Brin Family Aerial Robotics Lab and Robotics and Automation Lab, and the Neutral Buoyancy Research Facility in College Park; and the UAS Test Site and SMART Building/MATRIX Lab in southern Maryland.
SeaPerch
During the first week of June, the SeaPerch K-12 underwater robotics competition drew more than 130 teams of 1,000 students, parents and teachers to the Eppley Aquatic Center on campus. Each team brought a customized, remotely operated robot and navigated it in the pool through a series of real-world obstacles that test maneuverability, control and utility. Teams came from New Zealand, UAE, the Cayman Islands, and Egypt, as well as the United States.
SUAS
In mid-June, RoboNation brought its international SUAS drone competition to the St. Mary's County Regional Airport and UMD's UAS Test Site in southern Maryland. This competition featured 71 teams and required undergraduate and graduate students to design, integrate, report on and demonstrate an unmanned aerial system capable of autonomous flight and navigation, onboard remote sensing, and task executions.
It was the first time the 20-year-old SUAS competition was co-hosted by St. Mary's County and UMD. Previously the competition had been held nearby at a Navy airfield, but that facility was not available for 2022. Matt Scassero, director for research, innovation, and outreach at the Maryland Autonomous Technology and Innovation Xploration (MATRIX) Lab and former director of the UAS Test Site, heard about the situation and saw an opportunity for UMD to help.
"I went to the county right away and asked if we could hold it at the airport," he says. "Immediately everyone came together and said, 'Yes, let's do it!'"
"At the test site we how to do UAS operations, so we were able to help set up the competition for success," said UAS Test Site Engineer Josh Gaus. "From my perspective, our primary mission is to help UMD, and by extension, help students with UAS-related research, so it was really exciting to support RoboNation and this competition."
In the future Scassero hopes the partnership between RoboNation and UMD will foster greater student engagement with team competitions, especially those involving autonomous technology.
"Both the UAS Test Site and the new MATRIX lab in the SMART building will be involved in developing new student competition teams," he says. "This gives us the opportunity to establish UMD as a leader in autonomous technology, research and education."
RoboSub
The RoboSub competition, held for six days in July and August at the Eppley Aquatic Center on campus, celebrated its 25th anniversary this year. RoboNation's original international autonomous underwater vehicle student competition drew 39 high school, undergraduate and graduate student teams from 11 countries, including the UMD student team, Robotics@Maryland. Teams design and build autonomous underwater vehicles similar to those used for real-world underwater exploration, seafloor mapping, and sonar localization. In the pool these robots tackle six different tasks that involve navigation, sensing, maneuvering objects and shooting torpedoes through targets.
Teaming with RoboNation
The University of Maryland's location near the nation's capital was a real advantage for RoboNation federal government and industry sponsors like the Office of Naval Research and Blue Origin. "Hosting multiple RoboNation competitions near the Washington D.C. area this year made it possible for many of our sponsors to join us in person," says RoboNation Strategy and Marketing Director Janelle Curtis.
"We were also able to invite the SeaPerch volunteers and guests to re-join us for RoboSub later in the summer," she notes. "This provided a unique firsthand opportunity for key stakeholders to experience the impact of the RoboNation pipeline of programs."
Teams supplemented their experience by visiting major Washington, D.C., sites like the National Mall and the museums of the Smithsonian Institution. "We heard of many student teams and out-of-town judges planning visits to D.C. and the National Aquarium in Baltimore to explore the unique cultural and educational sites the region has to offer," Curtis says.
Despite a tight timeframe, logistical challenges and the ongoing pandemic, the university met each unique need RoboNation had to successfully host all three events. The competitions were added to the university's summer schedule only a few months before they occurred. But Curtis notes that things ran so smoothly that attendees were not affected. "Many different departments from the University of Maryland worked closely with our team and the local community to ensure that our competitions would be a positive experience for all involved."
"From opening dorm check-in hours earlier than planned, to having the most patient dining hall staff, to the expertise of Manuel Nunez, our helpful event manager who always stayed one step ahead, each Maryland staff member worked patiently with us and our event attendees."
—Many thanks to Janelle Curtis of RoboNation, Joanne Avery of the Clark School of Engineering, and Bobby Cummings, contractor for the Office of Naval Research's Corporate Strategic Communications, for portions of this story. | Read a RoboSub story produced by the Navy here |
Published August 15, 2022