UMD Mourns Passing of Innovation Hall of Fame Inductee and Alumnus George J. Laurer, Inventor of the Modern Bar Code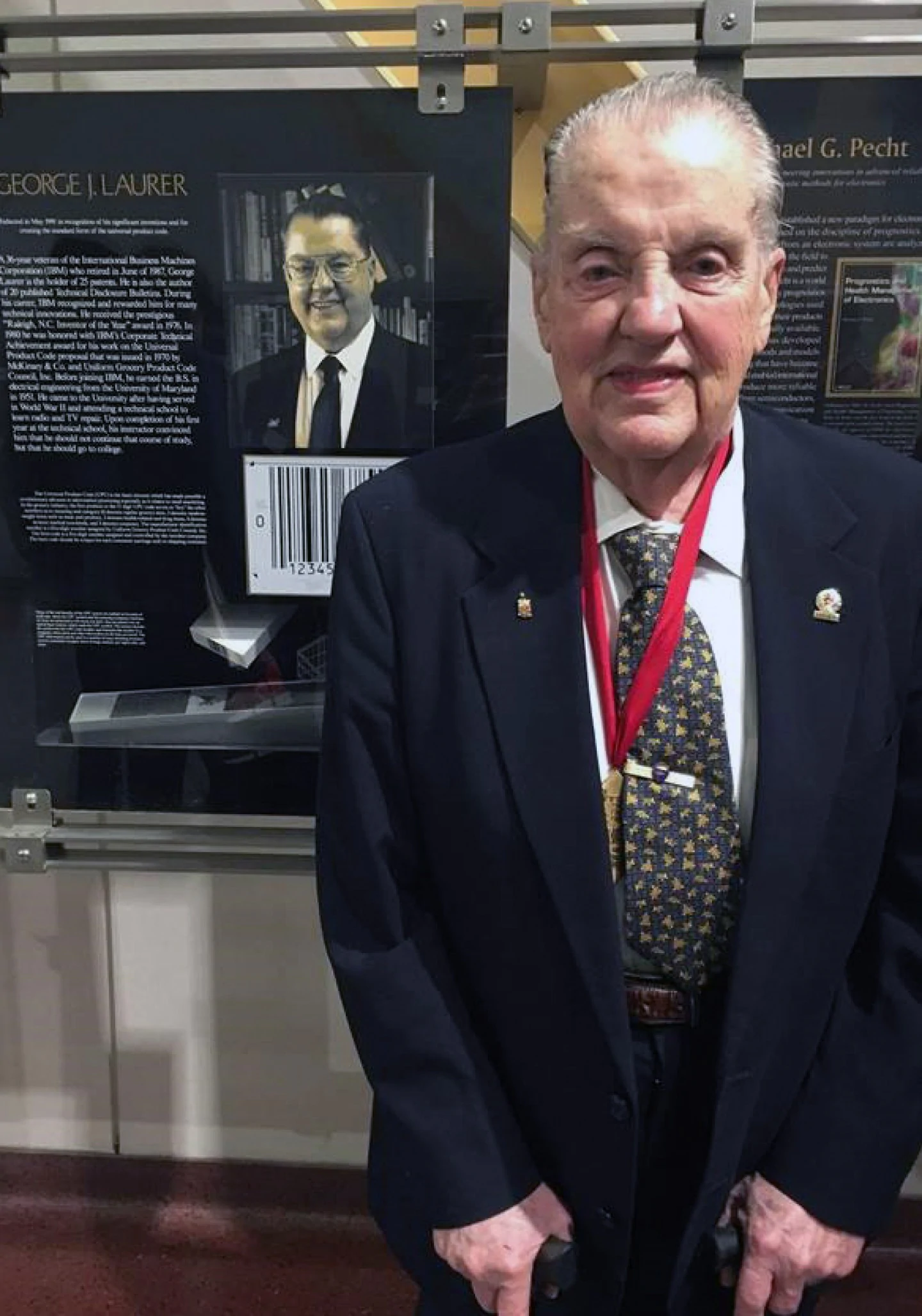 The University of Maryland mourns the loss of George Joseph Laurer, a 1951 graduate in electrical engineering and inventor of the Universal Product Code (UPC). A funeral was held on December 9 for Laurer, who died on December 5 at his home in Wendell, North Carolina. He was 94.
A 36-year veteran of the International Business Machines Corporation (IBM) who retired in June of 1987, George Laurer was the holder of 25 patents. He was also the author of 20 published Technical Disclosure Bulletins. During his career, IBM recognized and rewarded him for many technical innovations. He received the prestigious "Raleigh, N.C. Inventor of the Year" award in 1976. In 1980 he was honored with IBM's Corporate Technical Achievement award for his work on the Universal Product Code proposal that was issued in 1970 by McKinsey & Co. and Uniform Grocery Product Code Council, Inc. The ubiquitous bar code allows retailers to identify products and prices as they are scanned, leading to fewer pricing errors and stronger inventory records. In 2011, IBM recognized Laurer during the company's centennial celebration as a contributor to one of the company's 100 iconic moments.
Laurer was inducted into the Clark School's Innovation Hall of Fame in 1991. A few years later, the 25th anniversary of his invention was celebrated at the Smithsonian National Museum of American History. Laurer was also inducted into the University of Maryland Alumni Hall of Fame in 2000. He recently received the prestigious Clark School of Engineering's 125th Anniversary Medal on November 21, 2019.
Laurer was born September 23, 1925, in New York. Before joining IBM, he earned a B.S. in electrical engineering from the University of Maryland in 1951. He came to the University after having served in World War II and attending a technical school to learn radio and TV repair. Upon completion of his first year at the technical school, his instructor convinced him that he should not continue that course of study, but that he should go to college.
"George J. Laurer was a true trailblazer and pioneer. He made us all proud to be Terps, and it was great to get to know him over the past decade. He will be forever remembered by the University of Maryland for his humbleness and contributions to billions," said Clark School of Engineering Dean and Farvardin Professor of Aerospace Engineering Darryll Pines.
Laurer was preceded in death by his wife, Marilyn Slocum Laurer. He is survived by his daughter Debra Laurer Cook of Clayton, NC; son, Craig G Laurer of Danbury, CT, son, Mark K Laurer of Lexington, KY, son, Jonathan H Laurer (Tanya) of Raleigh, NC; grandchildren, Nigel F Laurer, Jasper H Laurer, India, Europa, Dubravka Zoe Laurer; great grandchildren, Xaelia, Victoria and Zachary Laurer.
Articles have been published through a number of news sources about Laurer's life, a life that has touched and improved the daily lives of nearly everyone in the world:
Sunday TODAY's Willie Geist remembers a life well-lived:
Published December 19, 2019