Alumnus Dr. H. Neal Reynolds Named 2021 Health Care Heroes Physician of the Year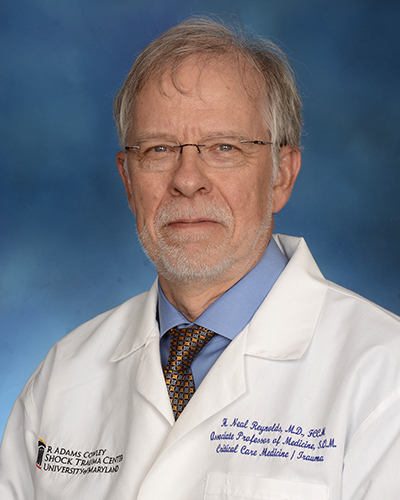 The Daily Record has named Dr. H. Neal Reynolds ('70, electrical engineering) a 2021 Health Care Heroes Physician of the Year. He will be recognized on June 24 at an online celebration.
After graduating in 1970 with his electrical engineering degree from the University of Maryland, College Park, Reynolds continued his education at the University of Maryland School of Medicine. He became board certified in Internal Medicine after residency at the University of Hawaii. He later obtained certification in Critical Care Medicine from Wayne State School of Medicine in Michigan, and is currently practicing at the University of Maryland Shock Trauma Center in Baltimore.
The Daily Record is a Maryland based newspaper that reports on business and legal news. In a statement, Suzanne Fischer-Huettner, senior group publisher, stated "The 2021 Health Care Heroes have faced incredible challenges, and they never give up. Their knowledge, skills and leadership are also making a significant impact on patients, families, the industry and the community." Dr. Reynolds has been widely recognized for his work during the Covid-19 pandemic.
At the onset of the pandemic, due to an underlying health condition, Dr. Reynolds was unable to continue working in the hospital. Instead, he maintained visits with patients, including Covid patients, by creating a robotic telehealth program. From his home more than twenty miles from his unit, he is able to control a robot with an attached computer screen. The robot, known as "Fast Freddy," can be directed into a patient's room so that Dr. Reynolds can communicate with patients and on-site health care workers. Robotic health care has been in use for about 16 years, but the current pandemic has highlighted its usefulness.
By drawing on his education in electrical engineering, Dr. Reynolds has done extensive work in using robotic technology as part of TeleHealth and Tele-ICU programs. He has spoken about his work at state, national and international levels; published numerous writings; and has taught TeleHealth to medical students, residents and practitioners. In addition, he has worked with the Maryland General Assembly on establishing laws supporting reimbursement and simplifying credentials for Telehealth and has created a state-wide alliance focused on the further development of TeleHealth programs in Maryland. He is currently studying the use of Infra-Red image enhancement to strengthen the quality of technology used in TeleHealth examinations.
View list of winners in all categories here.
Published May 7, 2021