Donald H. Willis Inducted into Innovation Hall of Fame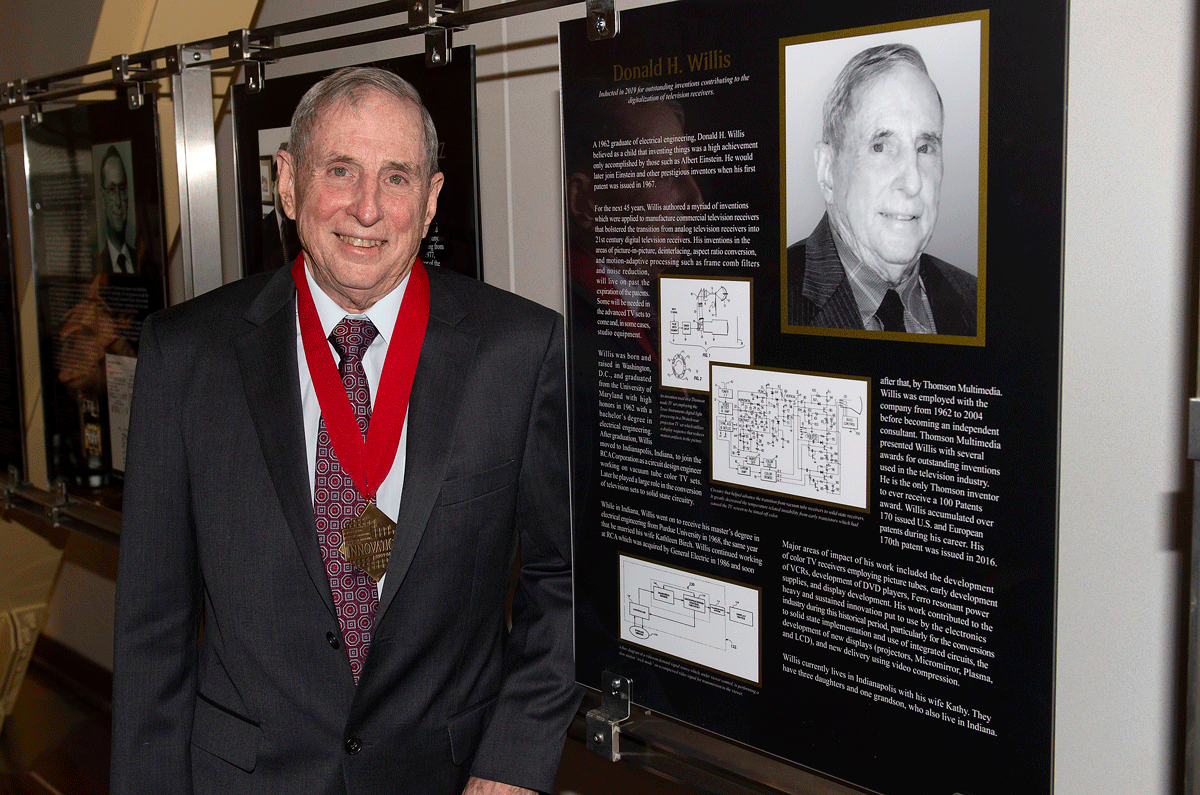 The A. James Clark School of Engineering at the University of Maryland inducted Donald H. Willis ('62, electrical engineering) into its Innovation Hall of Fame (IHOF) on November 12. The ceremony was held in the Innovation Hall of Fame of the Jeong H. Kim Engineering Building. Key Clark School administrators, faculty, past IHOF inductees, family and friends of Mr. Willis, and students of the College Park Academy, who are members of the Engineering For US All (E4USA) initiative, were in attendance at this annual event.
Willis was honored for authoring a myriad of inventions that were applied to manufacture commercial television receivers that led the transition from analog television receivers into 21st-century digital television receivers. His inventions in the areas of picture-in-picture, deinterlacing, aspect ratio conversion, and motion-adaptive processing will live on past the expiration of the patents.
Born and raised in Washington, D.C., Willis graduated with high honors from UMD in 1962 with a bachelor's degree in electrical engineering. That same year, he joined the RCA Corporation in Indianapolis, Indiana, as a circuit design engineer. At RCA, he worked on vacuum tube color TV sets and played a large role in the conversion of television sets to solid state circuitry.
While at RCA, Willis received his master's degree in electrical engineering from Purdue University in 1968. He was employed at RCA—which was acquired by General Electric and then by Thomson Multimedia—for more than 40 years before becoming an independent consultant in 2004.
Thomson Multimedia presented Willis with several awards for outstanding inventions used in the television industry. He is the only Thomson Inventor to ever receive a 100 Patents Award. He accumulated over 170 issued U.S. and European patents during his career, and his most recent patent was issued in 2016.
Major areas of impact of his work included the development of color TV receivers employing picture tubes, early development of VCRs, development of DVD players, Ferro resonant power supplies, and display development. His work contributed to the heavy and sustained innovation put to use by the electronics industry during this historic period, particularly for the conversions to solid state implementation and use of integrated circuits, the development of new displays, and new delivery using video compression.
The Innovation Hall of Fame recognizes Clark School alumni, faculty, and friends who have pioneered many of the most significant engineering advances in the past century. Every year since 1987, the Clark School has added a notable alumna/us to its Innovation Hall of Fame. Past Inductees include Charles H. Popenoe, inventor of SmartBolts; Robert Briskman, the co-founder of Sirius Satellite Radio; George Laurer, inventor of the Universal Product Code; and Brian Hinman, the innovator behind the Polycom SoundStation conference call device.
Nominate an innovator for IHOF today.
Published November 21, 2019