Fisher Named Biomedical Engineering Society Fellow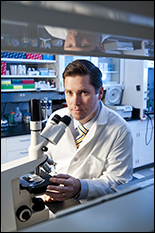 The Biomedical Engineering Society (BMES), the lead society and professional home for biomedical engineering and bioengineering, recently named Fischell Department of Bioengineering (BIOE) Chair John Fisher to its Class of 2016 Fellows.
BMES Fellow status is awarded to active Society members who demonstrate exceptional achievements and experience in the field of biomedical engineering. The appointment makes Fisher the second BMES Fellow for both the department and the University of Maryland. In 2005, BIOE Professor Emeritus Arthur T. Johnson was named BMES Emeritus Fellow.
Prior to his appointment as BIOE Chair in January 2016, Fisher served as Associate Chair and Director of Graduate Studies for the department and, in 2013, was named the department's Fischell Family Distinguished Professor.
As principal investigator for the Tissue Engineering and Biomaterials Laboratory, Fisher established a mission to develop engineered tissues, composed of biomaterials and transplanted cell populations, for the treatment of traumatic or pathological tissue defects. His laboratory has published more than 110 articles, book chapters, and proceedings, and has delivered more than 200 invited and contributed presentations, while utilizing over $7 million of financial support from the National Institutes of Health, National Science Foundation, Food and Drug Administration, National Institute of Standards and Technology, Department of Defense, and other institutions.
In addition to BMES, Fisher is a Fellow of the American Institute for Medical and Biological Engineering and the Fulbright Commission (Ireland). He is also Editor-in-Chief of the journal Tissue Engineering, Part B: Reviews, and Continental Chair Elect of the Tissue Engineering and Regenerative Medicine International Society – Americas Chapter (TERMIS-AM).
Fisher will be awarded the BMES Fellow plaque and pin on Thursday, Oct. 6, during the BMES Annual Meeting taking place in Minneapolis, Minn.
Published August 23, 2016