Center for Disaster Resilience Welcomes Richard Krupar III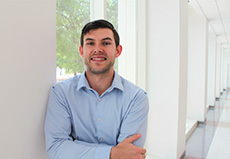 Richard Krupar III, Ph.D., is the newest affiliate of the Center for Disaster Resilience in the Department of Civil and Environmental Engineering. He also holds a position in the Department of Fire Protection Engineering as a postdoctoral associate.
Krupar has worked throughout his career to educate emergency response officials and the public on wind science and risk mitigation, an effort that will continue at the University of Maryland (UMD) as he develops a risk matrix to improve emergency management and financial risk decision making for hurricanes, floods, winter storms, fires, and other extreme weather phenomena.
"I am thrilled to join the Center for Disaster Resilience because I will conduct frontier research with a well respected group of engineers and scientists that share a similar vision for the future of disaster resilience," said Krupar. "The principal aim of my future research will focus on bridging the gaps between atmospheric science, engineering practice, and risk decision making to better understand the end-to-end chain from hazard generation to impacts on buildings, critical infrastructure, and society."
Krupar joins UMD after serving as a postdoctoral research fellow at The University of Queensland in Australia. During his 18 month tenure, he developed a multihazard tropical cyclone disaster impact scenario model for the region that integrated the risks of wind, rainfall, and storm tide. He also examined the relationships between dual-Doppler radar-derived wind fields and observed building damages during the November 2014 Brisbane hailstorm.
While earning his Ph.D. in wind science and engineering at Texas Tech University, Krupar served as a student ambassador of the National Wind Institute and represented the institute at local outreach events, including Severe Weather Awareness Day. He was also the field coordinator for the Texas Tech University Hurricane Research Team, participating in the deployments for hurricanes Irene (2011), Isaac (2012), and Sandy (2012). His research explored ways to improve the estimation of near-surface winds in landfalling hurricanes.
"Dr. Krupar's expertise covers the traditional activities of the Center for Disaster Resilience and new areas where the center wishes to expand, which puts him in an ideal position to serve as a bridge between center members," said Jose Torero, John L. Bryan Chair in the Department of Fire Protection Engineering and director of the Center for Disaster Resilience.
Published June 28, 2017