CEE Welcomes Sheree Avent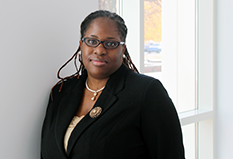 Sheree Avent has joined the University of Maryland as the director of administrative services for the Department of Civil and Environmental Engineering. In that role, she oversees department payroll, accounting, budgeting, reporting, facilities, and purchasing.
Avent comes to the department from North Carolina State University, where she was the accounting services manager for the College of Agriculture and Life Sciences. While there, she implemented a new document intake system that streamlined the process for faculty and staff to submit transaction requests and accounting documents. ServiceNow also created greater transparency throughout the transaction process by establishing a tracking mechanism.
She holds a B.S. in sociology from Towson State University and an MBA from Walden University.
Published December 12, 2017