Fisher, Bracaglia Weigh in on the Future of Regenerative Medicine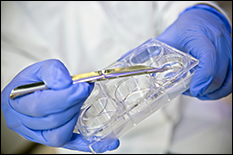 Fischell Family Distinguished Professor and Chair John Fisher and Fischell Department of Bioengineering (BIOE) alumna Laurie Bracaglia (Ph.D. '17) offered their takes on the potential for bioprinting to transform the regenerative medicine.
Fisher and Bracaglia were featured on the June 20th edition of Baltimore's National Public Radio station's On the Record program, hosted by Sheila Kast. The full podcast is available online.
"The long-term goal is to try to build replacement tissues to deal with this large need that we have for organ replacement or tissue replacement," Fisher said of 3D bioprinting. "But there is a series of steps that we can take to get to that ultimate goal. One simple step is [to make] models of tissues. If we're creating, let's say, a new cancer therapeutic, and we want to test that therapeutic, we can test it on an engineered tissue - on a bioprinted tissue - that [we can control] in the lab. And, we can use that as an intermediate test while developing the drug. If we want to see how different cell populations work together, or how drugs affect multiple cell populations, we can build these models and investigate those questions."
"The structural and architectural control that 3D printing [allows] to create a very specific scaffold or vascular graft is exciting," Bracaglia said. "The fact that we can get that structural and architectrual control from a biological material is pretty exciting. I think biological materials derived from animal tissue or from other human tissue, are really strong tools to use for tissue engineering scaffolds. And, if we can use that material in a 3D printer, then we kind of combine the best of both worlds - the biological relevancy and the structural control [offered] from a printer."
Earlier this year, BIOE announced the launch of the NIH-funded Center for Engineering Complex Tissues, in partnership with Rice University and the Wake Forest Institute for Regenerative Medicine.
Published June 23, 2017