Engineering Solutions for Burn Wounds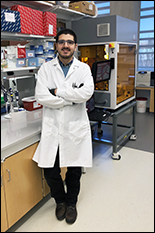 Thanks to advances in tissue engineering, the science of treating burn wounds has come a long way in recent years.
By creating biological substitutes to replace damaged skin tissue, engineers are working to overcome many of the challenges long associated with tissue replacement, including donor tissue rejection and donor tissue shortages.
As a bioengineering Ph.D. student in the Tissue Engineering and Biomaterials Laboratory (TEBL), Javier Navarro-Rueda focuses much of his research on a challenge that can not only impact a burn victim's health, but also his or her sense of identity: facial feature reconstruction.
Advised by Fischell Department of Bioengineering (BIOE) professor and chair John Fisher, Navarro-Rueda is working with fellow TEBL lab members to produce a regenerative facial scaffold to reconstruct facial tissue damaged by burns. Equipped with a novel dual-chambered bioreactor that Fisher and the group first developed, Navarro-Rueda is able to study stratified 3D cell populations, with the aim to grow layers of skin to match specific dimensions and shapes.
Having earned both his B.Sc. and M.Sc. in mechanical engineering from the University of Los Andes, Colombia, Navarro-Rueda was drawn to tissue engineering after learning about Fisher's work on bioreactors and 3D printing.
"I have always shown excitement for school and studying, first for solving the riddles in physics and mathematics, and later for finding new questions to solve in bioengineering," Navarro-Rueda said, noting that he had the opportunity to focus a large portion of his studies on materials engineering and design and manufacturing processes.
As an undergraduate working on his Intermediate Project course – Los Andes' equivalent to a senior Capstone course – Navarro-Rueda studied the mechanical properties of small intestine submucosa vascular grafts.
"The project changed my professional life," he said. "I became passionate about applying my mechanical background to solving questions of the human body."
At Maryland, Navarro-Rueda has always stood out as a talented innovator dedicated to the betterment of human health.
In recognition of his hard work, he was awarded the 2017-2018 Fischell Fellowship in Biomedical Engineering. First established in 2003, the award carries support in the form of a graduate research assistantship and includes a $10,000 stipend and benefits package.
Today, the knowledge that his research endeavors could one day change quality of life for others keeps Navarro-Rueda motivated.
"Coming from a background in mechanical engineering, I have found that being able to match the problems that you are working on every day to a life – to a patient's face – really changes your perspective of the impact you can have," he said.
While tissue engineers dream of developing artificial organs and of growing organs in the lab, Navarro-Rueda believes that there are a lot of exciting innovations coming down the pike.
"People think of it as sci-fi, but tissue engineers are working tirelessly to reach that technology," he said. "Imagining the possibility of one day growing a beating heart or having someone walking around with a part that we engineered is a truly exciting motivator."
As the department's newest Fischell Fellow, Navarro-Rueda joins the likes of BIOE alumni who went on to become company founders, academics, and regulatory scientists.
"I think the fellowship is validation of all the effort that goes into these projects," he said. "It shows that someone out there thinks that your ideas might actually work, and that they support them. For me, as someone working to build an academic career, these distinctions are particularly important.
"But, I think that one of the most valuable parts of the fellowship is having an idea placed among other great ideas that have actually induced change in bioengineering and the scientific community," he continued. "It offers encouragement to keep working on these projects and crazy ideas."
Published March 13, 2019