Anderson Awarded Accolades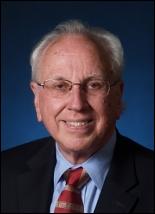 Clark School Professor Emeritus and National Academy of Engineering member John Anderson (aerospace engineering) has received the George Sarton Medal from the University of Ghent in Belgium for his lifetime of scholarly achievement in the field of the history of science. Anderson is a curator in the aeronautics division at the Smithsonian National Air and Space Museum.
As part of the award, Anderson gave a formal academic lecture titled, "Breaking the Sound Barrier; The Breakthroughs in Aerodynamics that Made It Possible."
Anderson also recently received the American Institute of Aeronautics and Astronautics Hypersonic Systems and Technologies Award for 2012. This honor recognized his lifelong achievement in the advancement of scientific knowledge in hypersonic gas dynamics and its application to hypersonic flight through seminal research, teaching, and publication.
Published June 28, 2012