Alumnus Is a Key Designer for Sikorsky X2TD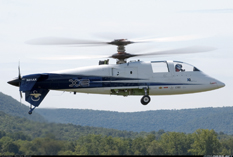 Building a helicopter that can fly 100 mph faster than current production models, with increased maneuverability, endurance and high-altitude performance, has earned a team of Sikorsky Aircraft Corp. engineers, including Clark School alumnus Ashish Bagai (pictured below), the prestigious Robert J. Collier Trophy--one of aviation's highest honors. The Sikorsky X2 Technology DemonstratorTM (X2TD) will, according to the company, change the way helicopters operate, delivering higher speeds and radically improved performance in medical, search and rescue and military applications, while maintaining the efficient hovering and low-speed attributes of conventional rotor-wing aircraft. Bagai was responsible for the aerodynamic design of the craft's main rotor blades, a key element in its success.
An aerodynamicist who is principal engineer for advanced design at Sikorsky, Bagai obtained his bachelor's, master's and doctoral degrees ('90, '92, '95) at the Clark School's Department of Aerospace Engineering (AE) and worked in the department's Alfred Gessow Rotorcraft Center. He cites as a primary mentor his advisor, internationally recognized rotorcraft aerodynamics expert and Minta Martin Professor of Engineering J. Gordon Leishman, plus Professors Alfred Gessow, James Baeder, Roberto Celi and Inderjit Chopra.
"I had the privilege of attending one of the finest schools for rotary-wing education and research," Bagai states. "It brought very significant advantages: use of some of the best research facilities, unlimited access to information, and exposure to and interaction with world-class experts. Faculty members were constantly pushing new areas of research and then rolling their findings into the curriculum. Ultimately, it was the capability of calculated independent thinking fostered by the Clark School that helped lead to the X2TD rotor design."
Meeting the Design Challenge
In September 2010, the X2TD flew at a speed of 290 mph (250 knots) in level flight, an unofficial helicopter speed record. Achieving high speed, while maintaining or improving capabilities such as high-altitude flight and maneuverability in confined spaces, was the key objective for the co-axial, pusher-propeller-assisted X2TD.
"Ultimately, it was the capability of calculated independent thinking fostered by the Clark School that helped lead to the X2TD rotor design."
Because the X2 does not require the retreating blades to produce lift at high speeds, he continues, "the design problem differs from what is required for a single rotor helicopter or for conventional, articulated coaxial or intermeshing rotors. One must design a fundamentally new rotor blade that will achieve speed but also provide performance capabilities." Characteristics of Bagai's novel design include non-uniform planaform, positive and negative twist gradients and a complex distribution of modern airfoils and thicknesses. Bagai's design benefitted from the knowledge gained from many years of related work, as well as many contributions by Sikorsky colleagues. "I drew on the guidance of exceptional people here at Sikorsky, gentlemen who provided years of experience and in-depth understanding and were only too happy to encourage and support the effort. I am very fortunate to be part of this team."
Bagai notes that he is not the only Terp within Sikorsky. "We have a small Clark School 'mafia' here," he says. "Michael Torok, Clifford Smith, Andreas Bernhard, Daniel Griffiths, Nickolas Tuozzo, Vineet Sahasrabudhe, David Matuska, Christopher Jones and James Wang are among many AE alums who have worked here, past and present."
For more information, see:
Ashish Bagai, Sikorsky Aircraft Corporation, Stratford, Conn., "Aerodynamic Design of the X2 Technology DemonstratorTM Main Rotor Blade," Proceedings of the 64th Annual Forum of the American Helicopter Society, 2008.
Rotor Blade for a High-Speed Rotary-Wing Aircraft (Patent: US 7,252,479 B2)
Published April 25, 2011