New Space Robotics Institute Funded by Congress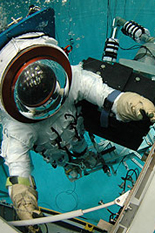 Congress has allocated $3.5 million for the creation of a new space robotics institute that will be led by Clark School researchers.
The NASA 2006 budget, signed by the President, allocates $3.5 million for the creation of an Institute for Dexterous Space Robotics at the university.
Teaming with Carnegie-Mellon University and Stanford University, the Clark School's Space Systems Laboratory will create and lead a university consortium for advanced robotics to address NASA's current and future needs for cutting-edge robotics.
The institute will focus on creating robotic technologies capable of meeting future NASA needs, from large space telescope construction and maintenance to on-orbit assembly of interplanetary spacecraft to surface exploration of the moon and Mars in partnership with space-suited astronauts.
On a regular basis, technologies developed at the Clark School and at partner institutions will be implemented on Clark School testbed systems, such as the Ranger dexterous robotics system originally developed for a space shuttle flight demonstration.
These integrated simulations will demonstrate the technologies in relevant simulation environments, such as the Clark School's Neutral Buoyancy Research Facility, as the last step in the process of qualifying the systems as ready for space flight development, test and operations.
Published December 6, 2005