Gray Wins Dr. Mabel S. Spencer Award for Graduate Achievement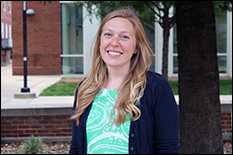 Fischell Department of Bioengineering (BIOE) Ph.D. student Kelsey Gray was named the recipient of the 2017 University of Maryland Dr. Mabel S. Spencer Award for Excellence in Graduate Achievement. The Spencer Award honors the memory and outstanding professional achievements of Dr. Spencer, who taught at the university from 1948 to 1968.
Gray, a third-year graduate student in BIOE assistant professor Kimberly Stroka's Cell and Microenvironment Engineering Lab, is working to develop an "on-chip" model of the blood-brain barrier (BBB). This selectively permeable network of blood vessels allows essential nutrients to reach the brain but blocks other substances – including most medications. Additionally, BBB dysfunction plays a role in many diseases, including tumor metastasis, Alzheimer's disease, Parkinson's disease, and stroke.
Researchers looking to conduct in vivo BBB studies to advance human health face a number of obstacles – including the fact that it is challenging to isolate key regulatory stimuli. As such, Gray, Stroka, and their research team are working to develop a BBB-on-chip to enable detailed mechanistic studies to understand the mechanobiology at play in the BBB.
Even more, Gray has teamed up with BIOE assistant professor Steven Jay, who specializes in engineering extracellular vesicles and developing protein-based cancer therapeutics.
"Extracellular vesicles are nanoscale units released from cells that contain bioactive cargo based on the cells from which they are derived," Gray explained. "Their role has been implicated in cancer metastasis, including metastasis across the BBB. I plan to further investigate the role of extracellular vesicles at the BBB barrier during breast cancer metastasis, utilizing my BBB-on-chip model."
Gray has already received a great deal of recognition for her work. In the past year alone, she spoke at the 19th International Symposium on Signal Transduction at the Blood-Brain Barriers in Copenhagen, Denmark, the American Society for Matrix Biology Meeting in Florida, and the Cellular and Molecular Bioengineering Conference in Hawaii, and received travel awards for each.
In addition to her research, Gray volunteers as an E-mentor for the Leadership, Engineering and Design Program (LEAD) at Elizabeth Seton, an all-female high school in Bladensburg, Md. She also serves as a mentor for Wheaton High School students via the Program to Enhance Participation in Research (PEPR), an initiative led by BIOE assistant professor Christopher Jewell to provide high school students with great exposure to bioengineering as well as science and math.
"I strongly believe that diversity is required for truly innovative progress," Gray said. "Unfortunately, diversity within the STEM fields is lacking."
For this reason, the 2014 Fischell Fellow is working to promote higher education in engineering among underrepresented groups.
After receiving her Ph.D., Gray plans to pursue a postdoctoral fellowship that focuses on therapeutic research and provides opportunities for teaching and mentorship both inside and outside the lab. Her ultimate goal is to improve quality of life by developing medications for patients suffering from diseases of the central nervous system for which current therapeutics are limited.
Published June 14, 2017