Dean's Circle Spotlight: Rewriting the Story of Access and Success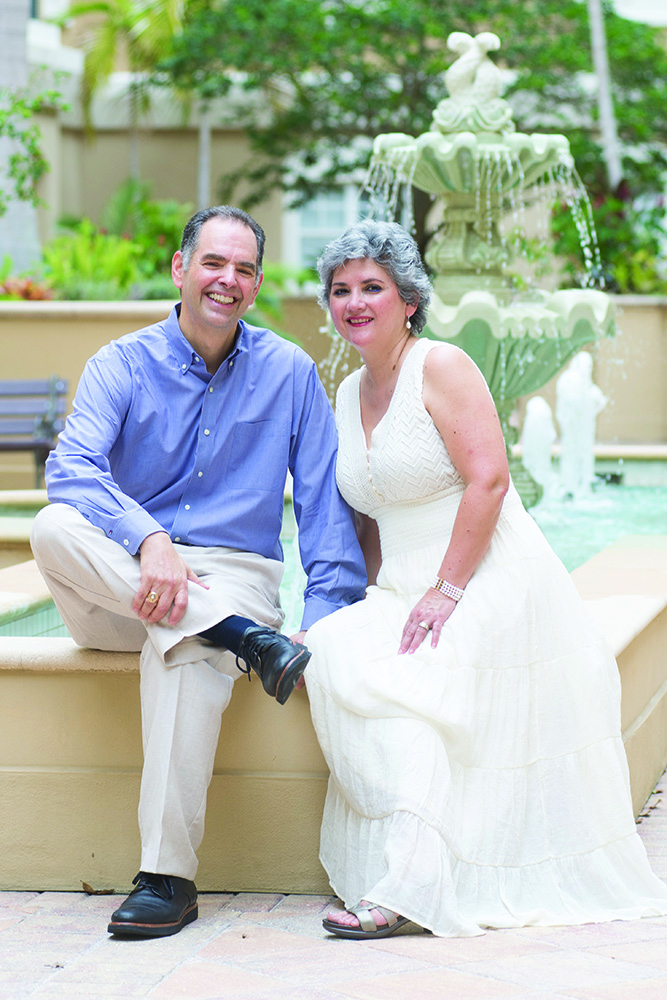 For entrepreneur Steven Lehrer '82, being on the vanguard has meant writing his own story of success—and of heart. As managing director of SBLehrer LLC, he helps companies advance life science ventures for the betterment of society. As a proud UMD alum, he's helping today's engineering students get their start where he got his.
Of his origin story at Maryland Engineering, Steven describes a senior-year project as pivotal: design and develop a model chemical manufacturing plant, including costing out the plant and providing financial projections. "This was the class that tied engineering and business together, that told me what I wanted to be doing," he says.
Between completing his engineering and economics coursework and simultaneously working a job in Baltimore, Steven's student life didn't leave room for campus involvement, a fact he regrets. At the same time, his wife Isabella, a native of Peru whom he met in high school, was a commuter student at UMD studying early childhood education, also working to put herself through school. After graduation, Steven accepted a job offer from Procter & Gamble; the couple was married then moved to Cincinnati, all within a span of four weeks.
Later, Steven received his MBA from Harvard and established himself in the life sciences industry. His focus on commercializing new technology led to his work in the global development of biosimilars, which make common medications less expensive and more accessible. Still, in parts of the world, common medications remain inaccessible due to high cost. There, Steven rewrites the prevailing narrative by developing biosimilars—at a third of the typical cost, in some cases.
Yes, this is business, he notes. But Steven operates from an altruistic standpoint: "I'm always asking, 'How do we improve access to these key medicines around the world?'"
THE DEAN'S CIRCLE recognizes those who have given $100,000 or more during their lifetime to the Clark School.
In 2019, Steven joined the Advisory Board of the Fischell Department of Bioengineering, the Clark School's youngest department; three years later, he began as Chair of the board's Development Committee. As part of that role, he encouraged and funded the department's first matching campaign of $10,000, and offered an Advisory Board challenge gift of $5,000 for 100 percent board giving participation this fiscal year. With four months to go, participation has reached 75 percent.
The Lehrers are strong advocates for education. Once Steven graduated from business school, Isabella returned to work, helping single mothers secure childcare so they could enroll in workforce training programs. The Lehrers helped start a charter high school so students from all backgrounds could have a chance at college. "Helping children learn and grow has always been important to me," says Isabella, who describes Maryland as the couple's "springboard."
In gratitude for their start as Terps, the Lehrers have made generous commitments to scholarships, including establishing the need-based Steven B. and Isabella C. Lehrer TerpStart Scholarship in Chemical and Biomolecular Engineering. They have contributed generously to the Maryland Promise Program (MPP), recently increasing their giving to support the first department-specific MPP, for bioengineering.
"We want our scholarships to be meaningful, to go to those who need the economic help," Steven says, "so they don't have to go through what we went through as working students."
Steven is looking to a brighter future—and asking of all Maryland alums and friends what he asks of his businesses: "Whose life have you changed? How can you do more?"
This story first appeared in the Spring 2023 issue of Engineering at Maryland magazine.
Published April 26, 2023