Dean's Circle Spotlight: A Blueprint for Human-Oriented Innovation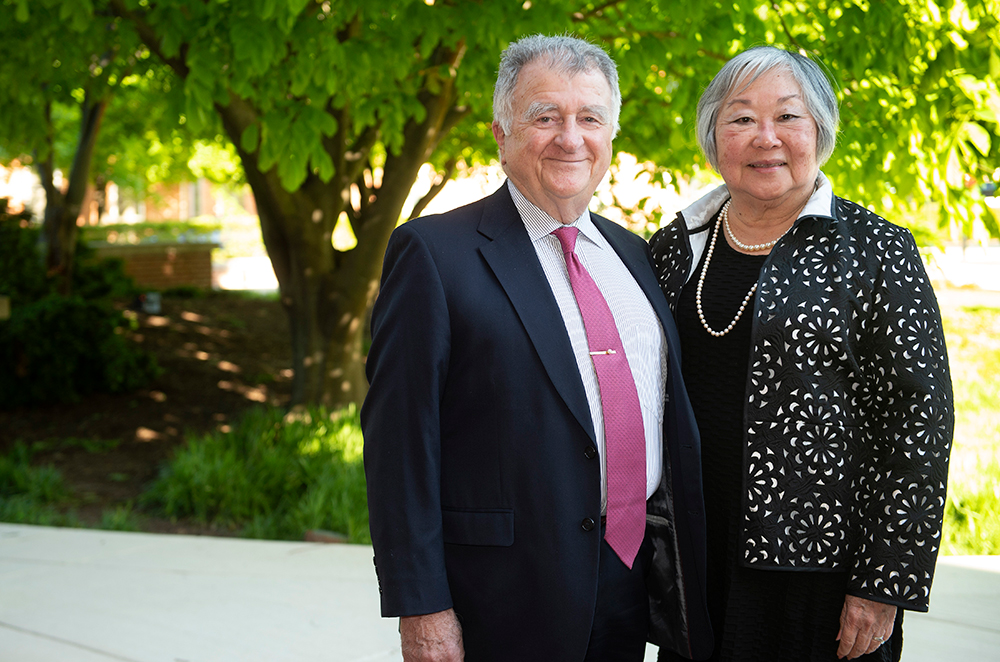 Ask Anthony Ephremides about his blueprint for success, and he'll answer with two guiding principles: "Anything you do should be (1) innovative and (2) human-oriented." It should come as no surprise then, that Ephremides—the founder of the field of ad-hoc wireless networks—is also one of Maryland Engineering's most philanthropic faculty members.
Fresh from earning his M.S. and Ph.D. degrees from Princeton, the native of Athens, Greece, joined the faculty of UMD's Department of Electrical and Computer Engineering (ECE) in 1971. Today, ECE's graduate program ranks in the top 10 among public universities, but 50 years ago, the department's reputation was more modest. Still, Ephremides saw potential: "As we say in the mathematics of our profession, the derivatives of its trajectory were all positive."
Echoing the path of ECE's ranking since, Ephremides has enjoyed an overall positive trajectory in his career. His scholarly focus spanning all aspects of communications systems, Ephremides was already making waves in the '70s—while consulting at the Naval Research Laboratory, he developed the first-ever algorithms for the distributed organization and control of wireless networks—and hasn't stopped since. He was a founding member of UMD's Institute for Systems Research, one of the original six National Science Foundation Engineering Research Centers; he is a former co-director of the Maryland Hybrid Networks Center; he has served the Institute of Electrical and Electronics Engineers and other professional organizations in a myriad of leadership capacities; and he continues to conduct breakthrough research, including recently published work on remote reconstruction of network signals in the emerging "Internet of Things."
Looking back, Ephremides says, the networks he values most are interpersonal ones. He has found fulfillment in his roles of teacher and advisor, having supervised the dissertations of more than 40 Ph.D. students—many of whom now hold prominent positions in academia, industry, and research labs and with whom Ephremides keeps in touch. "They still seek my advice, though now I also seek theirs," he says. "This element of human relations has been the most important aspect of my work."
THE DEAN'S CIRCLE recognizes those who have given $100,000 or more during their lifetime to the Clark School.
In keeping with this idea, Ephremides and his wife of 48 years, Jane, have established a legacy of philanthropy to benefit the faculty and students of Maryland Engineering. Recognizing the career gains Ephremides received when named the Cynthia Kim Professor of Information Technology, in 2007 the couple established the Anthony Ephremides Chair in Information Sciences and Systems. Today, the title is held by Professor Sennur Ulukus, whose research interests span information theory, wireless communications, machine learning, and signal processing and networks.
When considering the importance of student support, Ephremides reflects that his Princeton education would have been unattainable were it not for the fellowship he was awarded. In return, he and Jane established the Anthony Ephremides Endowed Graduate Fellowship and the Jane Ephremides Distinguished Endowed Graduate Fellowship in 2016 to help further the careers of deserving students.
The couple says that Ephremides' long tenure at UMD has instilled in them a feeling of responsibility, and they're that pleased to see the results of their philanthropy in real-time. "Giving now allows us to witness the effects of our contributions and share in the academic achievements of the recipients," says Jane, who retired from the U.S. Environmental Protection Agency in 2003. "This has given both of us a special sort of satisfaction."
At the game-changing edge of not just research but also student and faculty support, Ephremides hopes the couple's philanthropy will motivate imitators. When it comes to giving back, he says, "It's important to leave a legacy—to benefit others, and to inspire others to give back, as well."
Published October 24, 2022