Dean's Circle Spotlight: Supporting the Engineering Pipeline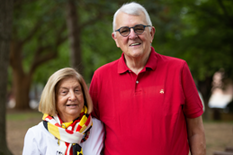 Sue Grudziecki ('63) entered the University of Maryland's College of Education in the middle of the 1959–60 academic year having been taught, at the time, that "women could be secretaries, nurses, or teachers, and unless you were very gutsy, you didn't go for anything else."
So when it came time for Sue and her husband Ron ('62) to give back to Maryland, they felt they could make the biggest difference by supporting more students in pursuit of more choices. They established the Grudziecki Engineering Encouragement Scholarship Fund at Ron's alma mater, the Clark School of Engineering, to provide aspiring Maryland engineers with the financial support they need to pursue their passions.
Ron majored in metallurgical engineering and, upon graduation from UMD, moved to a small town outside of Pittsburgh. He worked for a few years at an Alcoa aluminum factory while Sue taught in one of the first kindergarten public school programs in nearby Allegheny County. But engineering turned out not to be Ron's calling.
It was, however, the foundation for the rest of his career. When the Grudzieckis later relocated to Bethesda, Maryland, Ron juggled a day job at the U.S. Patent and Trademark Office, night classes at Georgetown Law School, and studying for the bar exam. Engineering training was a prerequisite for patent and intellectual property law, which Ron practiced for 50 years, but it also gave him a leg up in his law training. "When I went to law school, everybody was talking about the Socratic method–that's what they teach in law school," he says. "It turns out it's the same thing as the engineering method."&
TRAILBLAZER: In 1928, 17 year-old Evelyn Harrison became the first woman to enroll at Maryland Engineering.
An engineering background "is actually useful everywhere," says Ron, who's served on the Clark School Board of Visitors since Fall 2016. "It was useful for me in law. I think it would be useful in business and medicine. It's a way of analyzing problems to come up with solutions. An engineering education is a stepping-stone to many different things: You can decide what you want to do with it.
Ron and Sue's supported scholars–who learn about gender equity by participating in Women in Engineering summer programs designed to connect and introduce students, regardless of gender or background, to engineering–are embodying that spirit by pursuing an impressively diverse array of career paths. Graduated recipients have gone into jobs and graduate programs in a variety of fields, such as product development, mechanical engineering, fire protection engineering, and informatics, all across the country.
And while Ron credits his uncle, a metallurgical engineer, for his start in engineering, it's his mother whom he credits as his philanthropic inspiration: "For years after she died, I received mail from all kinds of organizations that I didn't know she gave to," he says. "She never gave much because she didn't have much, but she always chose to give."
And by following her legacy, Ron and Sue are giving Maryland engineering students the gift of more choices.
---
The Dean's Circle recognizes those who have given $100,000 or more during their lifetime to the Clark School. To learn how your charitable donation can make a significant difference in the future of the Clark School, contact Leslie Borak, assistant dean for external relations, at lborak@umd.edu or 301-405-0317.
Published December 14, 2021