UMD Alumnus Selected as Vertical Flight Society's New Executive Director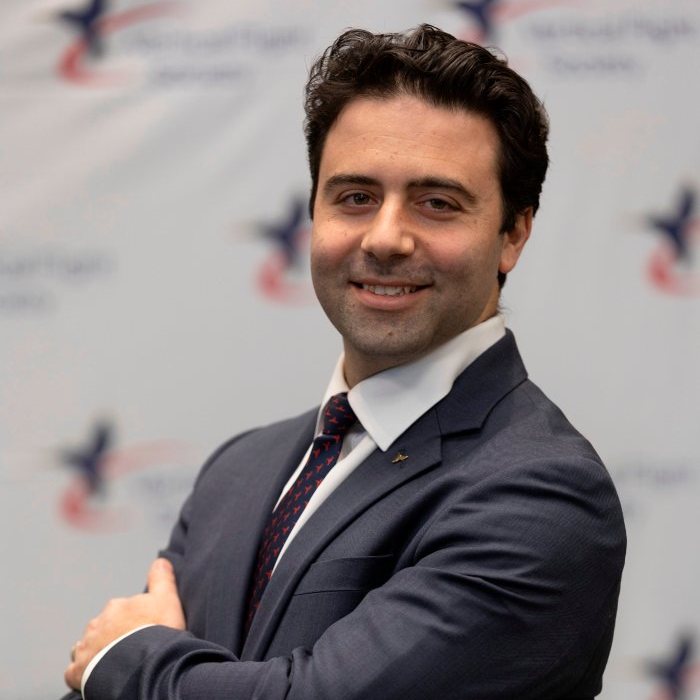 The world's leading organization advancing vertical flight today, the Vertical Flight Society (VFS), announced that University of Maryland alumnus Angelo Collins ('09, aerospace engineering) will be taking over the helm as the organization's new Executive Director.
According to the VFS press release, Collins will be only the seventh leader of VFS in its 80-year history. His appointment begins June 1, 2023, and he'll be taking over from outgoing director Mike Hirschberg, who has led VFS for the last 12 years.
Collins, a member of VFS since 2008, is a distinguished leader and subject matter expert in the vertical flight industry, with 15 years of experience in aerospace engineering, project management and technical consulting, primarily related to vertical flight.
Most recently, he has been serving as an aerospace engineer with Booz Allen Hamilton, managing the science and engineering technical assistance (SETA) support contract to the Defense Advanced Research Projects Agency (DARPA) Tactical Technology Office (TTO). In this role, he supervised a team of 18 engineers and analysts supporting numerous cutting-edge technology initiatives. Collins has been supporting DARPA/TTO in various roles since starting as an engineering intern with CENTRA Technology, Inc. in 2008, when he was hired by Mike Hirschberg, then a principal engineer at CENTRA (now part of Amentum, Inc.).
Collins also served as the Science and Technology (S&T) Portfolio Manager and S&T Affordability Lead in the F-35 Joint Program Office, primarily responsible for oversight of S&T projects associated with development, production, and sustainment for various systems, including the F135-PW-600 engine and Rolls-Royce LiftSystem for the short takeoff and vertical landing (STOVL) jet fighter.
As a SETA at DARPA, he supported numerous vertical flight-related programs, including Tern, Aircrew Labor In-Cockpit Automation System (ALIAS), Gremlins, DiscRotor, Mission Adaptive Rotor, Otter, Blackjack, Goblin, Angler, Silent Marauder and High-Speed VTOL. He also supported the Office of Naval Research (ONR) Autonomous Aerial Cargo/Utility System (AACUS) VTOL program.
In parallel, Collins served as a program manager for Skyworks Aeronautics on a part-time basis, leading a team of international engineers, analysts, and lawyers in development of the Hawk 5 Gyroplane.
Collins was also the Administrative Chair of the first VFS Transformative Vertical Flight (TVF) Workshop, held at CENTRA headquarters in August 2014. This event, now held annually as the VFS Electric VTOL Symposium, was the world's first meeting of the emerging eVTOL pioneers.
"I am truly humbled by the opportunity to serve as the latest steward of the Society that I love so much," said Collins. "I appreciate the confidence that the Board of Directors has placed in me, and I look forward to serving the membership and expanding the global impact of VFS."
Collins has a B.S. in Aerospace Engineering from the University of Maryland (UMD) and an M.S. in Engineering Administration from Virginia Tech. He is the author/co-author of six technical papers (primarily at VFS events) and several articles in Vertiflite, the VFS membership magazine. He was a student of and co-author with then-UMD Prof. Gordon Leishman, winning a best paper award in 2011.
VFS is the world's only international non-profit dedicated to the advancement of vertical takeoff and landing (VTOL) aircraft and technology. It was founded in 1943 as the American Helicopter Society, Inc. (AHS) by the visionaries of the early helicopter industry, who believed that technological cooperation and collaboration were essential to support this new type of aircraft. Today, history is repeating itself, with VFS playing a similar role helping to advance today's revolutionary electric VTOL aircraft
Reprinted in part from the Vertical Flight Society.
Published March 28, 2023