Alumna Project Manager for NASA's First Mission to Study Jupiter's Trojan Asteroids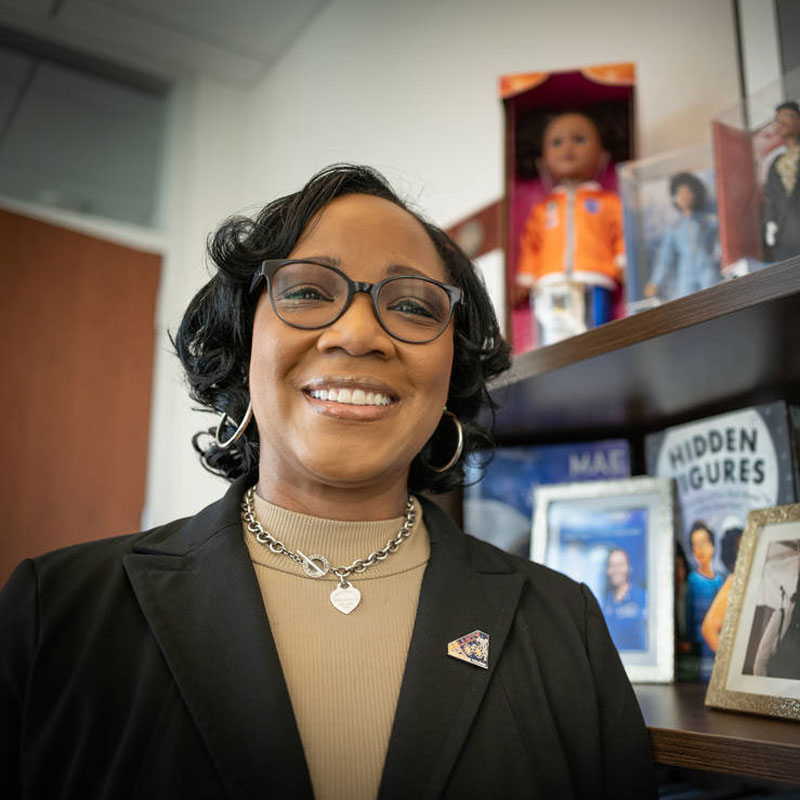 University of Maryland alumna, and Salisbury, Md. native, Donya Douglas-Bradshaw (B.S. '94, mechanical engineering) is a project manager for NASA's Lucy Mission, the agency's first single spacecraft mission to study Jupiter's Trojan asteroids.
Successfully launched on October 16 from the Cape Canaveral Space Force Station in Florida, Lucy left for its 12-year, four-billion mile mission to fly by one main-belt asteroid and seven Trojan asteroids. Jupiter's Trojan asteroids are thought to be "fossil" remnants of the primordial material that originally formed the outer planets, and their exploration may provide new insights into planetary origins and the history of the solar system.
As part of the Lucy Mission Team, Douglas-Bradshaw is responsible for ensuring the accuracy of the technical details, budget and scheduling for the mission, and works with scientists, engineers, business managers, schedulers and other experts to solve problems within budget and time constraints.
Douglas-Bradshaw's current role is a long way from her humble roots growing up on Maryland's Eastern Shore, but she says, "I want to share my story because I think it's important for people to see someone who came from a humble beginning living their passion."
In conjunction with Lucy's successful launch, her story was featured as part of a NASA series on the mission team, as well as by local media outlets like Delmarva Life.
Douglas-Bradshaw has been with NASA for more than 30 years since she earned a one-year internship at NASA Wallops Flight Facility. She would go on to a co-op position at NASA Goddard Space Flight Center while studying at Maryland, and she has worked since. Prior to her work on the Lucy Mission, Douglas-Bradshaw served as project manager for the ATLAS instrument that flies aboard NASA's ICESat-2 satellite.
Published October 19, 2021