Making Success, and Giving, Seem Natural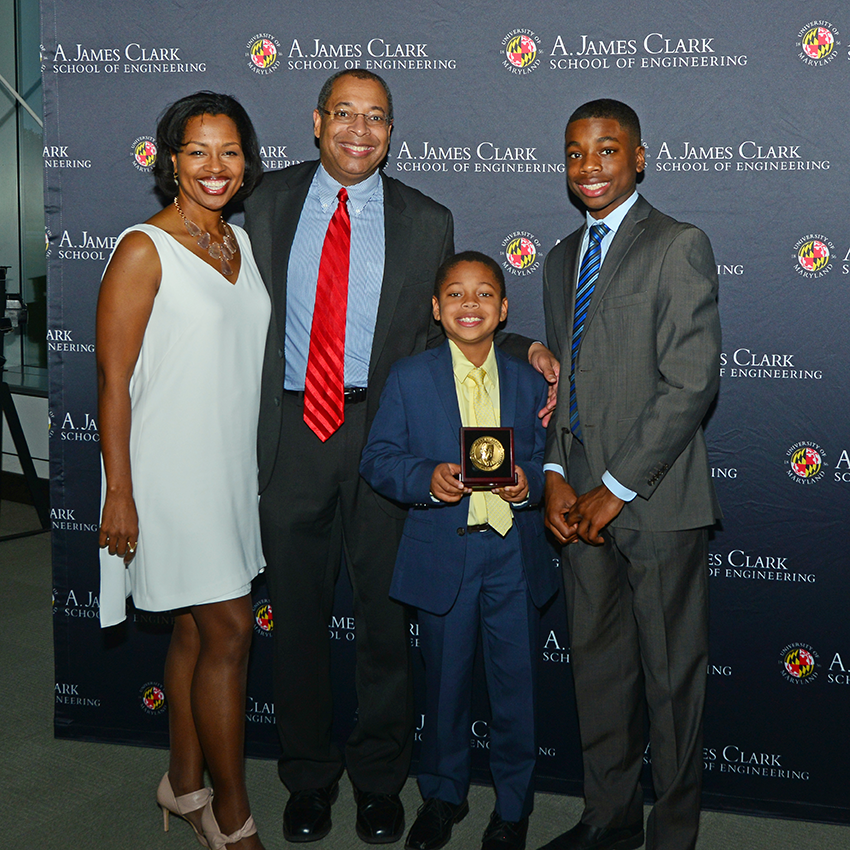 As a student at the University of Maryland in the '90s, Chris Jones (Ph.D. '97) was anything but average. He was already a captain in the U.S. Air Force with hundreds of hours logged on foreign ballistic missile and space systems. He had two graduate degrees, one in aerospace engineering and one in engineering management. He was one of just a handful of Black aerospace engineering doctoral candidates in the U.S.
But what truly set Chris apart, says Rosemary Parker, director of the Clark School's Center for Minorities in Science and Engineering (CMSE), was that he made it all seem possible. "Chris was a normal guy," says Parker. "He tailgated at football games and came by the office for the free food, just like everyone else. But for other students, he was a fantastic role model. Here was an African-American man pursuing a Ph.D. in aerospace engineering, which is not easy to do—but he made it look doable, and that's what's so remarkable about him."
Raised in a middle-class family in Havre de Grace, Maryland, Chris showed an early affinity for math and science. He fixed his own broken bikes and helped out with repairs around the house, activities that initially sparked his interest in engineering. He sought out an ROTC scholarship to help pay for college, then earned two master's degrees while simultaneously establishing a successful military career. Later, he chose to pursue his Ph.D.—just to prove he could.
"This is something Chris doesn't really talk about," says his wife Vernice ('90, M.B.A. '96), who met Chris at Maryland. "There is this undercurrent of being able to get out there and make your own way that is such a huge part of the way Chris sees the world. It's an important part of his story."
Vernice points to Chris' uncanny ability for earning scholarships—which he constantly applied for, and got—and recalls him attending conferences and coming home with two or three at a time. And while it was Chris' tenacity that that put the money in his pocket, it was people at the Clark School, including Parker, CMSE Associate Director LaWanda Kamalidiin, and Distinguished University Professor and Gessow Rotorcraft Center Director Inderjit Chopra, who showed him where to find it.
"Frankly, a lot of those opportunities were because of the encouragement I received from CMSE staff or one of my professors," says Chris. "When Ms. Parker said, 'there's an opportunity,' or when Dr. Chopra said, 'enter this contest,' every time, I applied."
It's an assuredness that Chris admits is uncommon among minority engineering students.
"Often times it's not a knowledge thing as much as it is a confidence thing," he explains. "I've found that if the criteria are four years' experience and minorities and women have three and three-quarters, they don't apply.
"That was something I got out of CMSE and the Rotorcraft Center; they are dedicated to giving students the confidence to apply and get their share."
That extra push, explains Chris, can be the difference between being a full-time student and having to also juggle a job, or missing a chance to earn a fellowship or study overseas. That's why, early on in college and later while obtaining his Ph.D., Chris spent time helping other students gain their footing.
"I graduated college with $20 in my pocket—and that's because I sold my books," says Chris. "When I was in grad school, I didn't have a lot of money, but to tutor a student, help them navigate a big campus like Maryland, or give them some encouragement doesn't take money, or a lot of time. There's always someone who needs help."
Vernice also learned that to pursue her passion, she would have to be dogged in her pursuit. During a trip to China in graduate school, she confided in a professor that, despite her immediate love of the country and culture, she could never conquer the language. He stopped her in her tracks.
"I remember him looking me in the eye and saying, 'if you want to study Chinese, you should study Chinese,'" she says. Inspired by the professor's vote of confidence, she persisted. A convincing pitch to act as a liaison for prospective students in China sent her back again and allowed her to further her studies, eventually building a foundation for her successful executive coaching company, the Leadership Compass. Her first 15–20 clients were all from Southeast Asia.
After finishing his Ph.D. at Maryland, Chris led work on innovative rotorcraft technology, including the Commanche helicopter program for Sikorsky Aircraft Corporation. He joined Northrop Grumman in 2004 as director for the Airborne Early Warning Program and later served as corporate vice president and president of the company's Technology Services Division. He continued with the Air Force National Guard until 2011.
More than 20 years after finishing his degree, Chris is still giving back, just a little differently. Last year, he made good on every scholarship he ever received, contributing to organizations from the National Society of Black Engineers to the NAACP. After returning to the D.C. area, he also found himself returning to campus, serving on the Clark School's Board of Visitors and resurrecting his superfan status at Terp football and basketball games. In 2018, the Joneses created an endowed scholarship fund for merit-based scholarships in aerospace engineering and later contributed to the Darryll and Sylvia Pines Maryland Promise Scholarship. In 2019, Chris established the CMSE Director's Current-Use Fund, which provides support for student-focused programming and center operations. He still attends center events, talking and listening to students, for as long as they want.
"He spoke at one of our leadership retreats years ago and, afterwards, handed out his phone number, encouraging students to call him—and he meant it!" says Parker.
Chris' gift to support CMSE, an organization that springboarded much of the opportunity Chris seized while at UMD, is a testament to Chris' desire to keep giving back.
"It's not about the school; it's the people," he says. "I wasn't giving money to the center, I was giving it to Rosemary and LaWanda because they need the money. They are the center. For me, it was just personal. There are a lot of students who really need the money—and it's how I can help."
Published February 2, 2021