Book Features LEAFHouse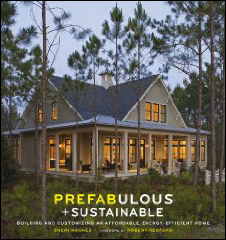 UM's 2007 Solar Decathlon entry, LEAFHouse, is featured in a new book on sustainable housing.
Prefabulous and Sustainable
profiles 25 green homes in North America. The book will be available for purchase in April.
LEAFHouse is an 800 square-foot solar-powered home developed by a team including Clark School students to be inhabitable and able to produce its own power. The house came in second place in the international competition and won the BP Solar People's Choice Award as the crowd favorite among those who toured the 2007 competition houses on the National Mall.
UM plans to field a Solar Decathlon team for the 2011 competition (see related news story).
Published February 26, 2010