Making Engineering Make 'Cents' to Teens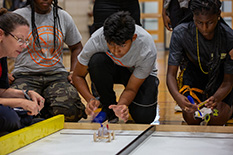 By Rebecca Moon Ruark for Maryland Today
What teen in an age of CashApp and Apple Pay would bother pocketing a penny from the sidewalk?
But hundreds of local rising ninth-graders learned the lowly currency has plenty of value at an engineering challenge hosted on Thursday by the University of Maryland.
The competition had them build a hand-sized cart from wood, cardstock and a rubber band-powered propeller for forward motion. The goal? Deliver 50 pennies in the cart across a finish line while minimizing "fuel" use. (Each twist of the rubber band stores energy and represents a volume of fuel.) Another twist: Finalists who made it through the first round on the smooth hardwood hauled their precious cargo over a bumpy course with a speed bump—for an added engineering challenge.
The event capped off the Summer 2023 GOAL (Get Out and Learn) Engineering Kit program with Prince George's County Public Schools (PGCPS), which uses the GOAL kits as part of its summer bridge program for students newly registered in its four science and technology magnets: Charles Herbert Flowers, DuVal, Eleanor Roosevelt and Oxon Hill.
To the sounds of chanting, stomping and stadium horns blaring from the bleachers, the students competed for accolades including the overall winner for most fuel-efficient cart design, along with most school spirit, judges' choice and other awards. The tall trophy went to a team of DuVal students: Nazareth Hernandez, Lydia Aluko and Andre McLean.
Another DuVal student, Johana Mejia, said she had fun motivating the teams to win with spirited chants. ("I can't hear you!" the students called back and forth across the Ritchie Coliseum hardcourt.) She thinks STEM might be a good fit for her. "My plans are to maybe start in the engineering field," she said.
Spearheaded by the Women in Engineering (WIE) Program and the Environmentally and Socially Responsible Engineering (ESRE) team at UMD, the GOAL program was developed in 2020 in response to the pandemic, which greatly reduced the access of groups underrepresented in STEM to hands-on curriculum.
The result of collaborations between UMD faculty, staff and undergraduates and area K–12 teachers and students, the GOAL kit design introduces STEM concepts—such as tension, weight placement and traction. More than 6,000 kits have been distributed to students at PGCPS, Montgomery County Public Schools and other area schools.
The 2023 competition—the first held on the UMD campus—kicked off with a pep rally followed by welcome remarks by University System of Maryland Chancellor Jay A. Perman and UMD President Darryll J. Pines, who told students the GOAL experience could shine a light on their future career paths.
"In the United States, a lot of our economic development and competitiveness is driven by people like you, future STEM majors," said Pines. "This experience that you're having this summer as ninth graders is beneficial, hopefully to the future career choices you'll make four years from now."
For Van Rawls, instructional specialist for the STEM office of PGCPS, partnering with the university through GOAL is a natural fit. "The students of Prince George's County are part of the university community," he said. "They live here; they attend events on campus and participate in community events offered by the university. We'd like all our students to be able to access a world-class education here, and this GOAL partnership is just the beginning."
Rawls said the university admissions statistics demonstrate the positive impact of collaborations like GOAL. This fall's incoming class of first-year UMD students will have the largest number of PGCPS graduates than ever before. Thirty-four of PGCPS' 54 valedictorians and salutatorians, Rawls said, will call themselves Terps.
The GOAL Kit program seeks to close opportunity gaps in engineering education by supporting classroom activities for K-12 students while making connections to higher education.
"We know that student interest in STEM varies widely, and the GOAL Kit program aims to level the playing field by providing quality, inclusive engineering activities that can be easily integrated into a variety of educational environments," said Jen Bishop, assistant director of WIE outreach and recruitment.
Thursday's event also included information sessions designed to inspire future STEM leaders. For example, William Phillips, Distinguished University Professor and 1997 co-recipient of the Nobel Prize in Physics, demonstrated the freezing, shrinking—and exploding—properties of liquid nitrogen.
Vince Nguyen, a mechanical engineering senior lecturer and a co-pioneer of the GOAL kit concept with the WIE Program, said undergraduate involvement is integral to the success of the GOAL program. UMD students work closely with UMD faculty and staff as well as K-12 teacher partners to design and test prototypes of the kit and curriculum, and the components are manufactured at the A. James Clark School of Engineering's Terrapin Works.
"UMD challenges our graduates to use their knowledge and experience to solve Grand Challenges," Nguyen said. "The GOAL program helps us walk the walk alongside our undergraduate students and local community partners toward advancing equitable education access—and attracting the next generation of diverse engineers and STEM leaders."
Published August 2, 2023