Yunho Hwang to Receive IIR Gustav Lorentzen Medal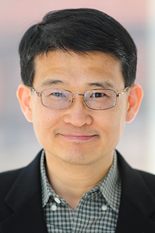 The International Institute of Refrigeration (IIR) announced that University of Maryland's Center for Environmental Energy Engineering Co-Director and Research Professor Yunho Hwang is the 2023 recipient of their Gustav Lorentzen Medal. IIR awards the medal every four years to an individual who has made outstanding and original achievements in academic or industrial research, innovation or development, in all fields of refrigeration, thus promoting creativity and renewal in the fields of expertise of the IIR.
(CEEE) and conducts research in heat transfer and working fluids for energy conversion systems—in particular heat pumps, air-conditioners, refrigeration systems and integrated cooling heating and power systems.
Hwang is a world-renowned expert for "Energy Efficiency and New Innovative Energy Systems Research" in the field of refrigeration and air-conditioning (RAC). In 1997, he started the Energy Efficiency and Heat Pumps Consortium in CEEE as a director and successfully developed multiple innovative energy-efficient and sustainable RAC technologies. In addition to developing energy-efficient technologies such as two-stage CO2 split cycle, saturation cycle, and hybrid separate sensible and latent cooling technology, he has initiated new innovative research on "Not-in-kind" Refrigeration Systems beyond sorption technologies such as elastocaloric cooling systems and electrochemical compression for natural refrigerants. As an educator and researcher, he advised UMD student teams for multiple national and international collegiate design competitions, introduced innovative thermal systems concepts, and helped teams win either First or Second place.
He is an ASME Fellow, an ASHRAE Fellow, and a member of ASME, ASHRAE, SAE, and IIR. Currently, he serves as President of Commission B1, a past chair of the LCCP Working Group for the IIR, and an operating agent of ANNEX 54 for IEA HPT. He also serves Energy, Elsevier (Netherlands) as a subject editor since 2015 and Int. Journal of AC&R, World Scientific (US), as an editor since 2013.
Hwang will be presented the award this year during the 26th IIR International Congress of Refrigeration in August in Paris (France). For this edition, the IIR received a record-breaking 37 applications from 15 countries for all of its awards.
IIR established the Gustav Lorentzen Prize in 1997 to honor the memory of Norwegian Professor Gustav Lorentzen (1915-1995), who was the Honorary President of the International Institute of Refrigeration and held a pre-eminent position in the refrigeration world for almost half a century.
Published August 1, 2023