Clark Professors Honored as Top Women Professors in Maryland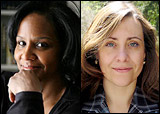 Two professors in the Clark School of Engineering, Carol Espy-Wilson, and Silvia Muro, have been named to the "Top 25 Women Professors in Maryland" list by StateStats.org, in conjunction with its partner website, OnlineSchoolsMaryland.com.
Dr. Espy-Wilson is a professor in the Electrical and Computer Engineering Department and directs the Speech Communications Lab at UMD. She is a Fellow of the Acoustical Society of America (ASA) and a senior member of the Institute of Electrical and Electronics Engineers (IEEE). Dr. Espy-Wilson's research focuses on the integration of engineering, linguistics and speech acoustics to study speech communication.
Dr. Silvia Muro is an associate professor in the Institute for Bioscience and Biotechnology Research as well as the Fischell Department of Bioengineering where she is the only cell and molecular biologist. She is recognized as an innovator in the field of targeted therapeutic and drug delivery, and in 2012, she received the Clark School's Junior Faculty Outstanding Research Award.
"Our goal with the top professor project is to recognize some of Maryland's stand-out educators and mentors," said Wes Ricketts, Vice President and General Manager of StateStats.org. "When our site visitors expressed deep interest in learning about the people who make the state's colleges and universities truly tick, we were honored to oblige."
The "Top 25 Women Professors in Maryland" were selected by the editorial and executive teams of StateStats.org for their excellence in the classroom, on campus and in the community. The list is posted on OnlineSchoolsMaryland.com, a website which provides free comprehensive listings and search tools for online college programs in the state.
Published May 7, 2013