The Battery Revolution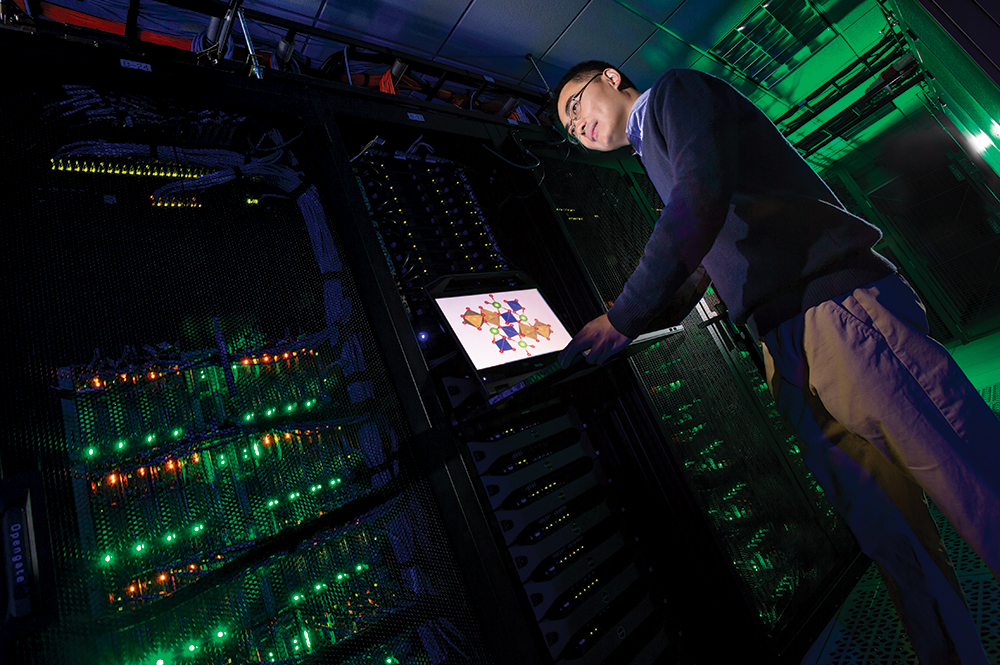 Fires in cell phones, laptops, and even a jumbo jet might have one thing in common: a liquid-electrolyte lithium-ion (Li-ion) battery.
Flammability—coupled with Li-Ion batteries' limited performance and consumers' insatiable demand for long-lived, portable, and lightweight electronics—drives researchers around the world to develop an alternative power source. Aided by artificial intelligence (AI) methods such as machine learning (ML), University of Maryland engineers are among the leaders in the race to build a better battery—the ultimate battery.
Explains Yifei Mo, assistant professor of materials science and engineering, "What we're after is ultimate safety, energy density, life cycle, and charging time."
In Li-ion batteries, positively charged particles called ions move through a liquid electrolyte between positive and negative electrodes. However, the liquid electrolyte limits power density when ions are not transported rapidly, causes slow recharge time, and risks bursting into flame. A new electrolyte base is needed to create batteries capable of moving more ions at a time, called fast-ion transport, and capable of discharging a higher electrical load.
ML can help find it.
"What we're after is ultimate safety, energy density, life cycle, and charging time."
A computational specialist, Mo and his collaborators use supercomputers aided by ML to model materials, atom by atom. This enables them to predict how the materials will conduct ion flow and create electric current, thereby speeding discovery of highly promising, novel solid-state battery materials.
"Fast-ion diffusion is very rare in solids," says Mo, who also holds an appointment with the Maryland Energy Innovation Institute. "Only a handful of materials can achieve this at room temperature. Ion transport is determined by many factors of the materials, and many are still not fully understood."
Mo's lab is among the first to employ ML techniques to accelerate materials discovery. Through the ML training on existing materials data, promising new solid-state battery materials that exhibit the required property of fast-ion transport may be found.
Mo and his research team have filed multiple patents on potential new materials for solid-state batteries and are working with industry partners to develop them.
Their next steps include testing novel materials and bringing them to consumers. "We want to commercialize new battery technology that revolutionizes our battery-powered life, everything from cell phones to cars," he says.
Published July 10, 2019