Students Visit Walter Reed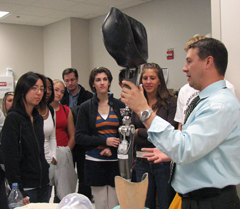 Earlier this month, several College Park Scholars, including many engineering students, visited The Walter Reed Army Medical Center in Washington D.C. to tour its state-of-the-art prosthetics laboratory for servicemen.
Staff members and faculty from across campus joined students in their tour of the facility. Seeing and learning about the Military Advanced Training Center for Soldier Amputees showed students how prosthetics are made and how veterans rehabilitate after receiving a prosthetic limb.
"I learned how a prosthetic limb is created, from start to finish, and how therapists use cameras and sensors to analyze a person's care," said Sarah Evans, a student in the Science, Technology and Society (STS) Scholars Program.
Scholars Executive Director Greig Stewart believes the trip was an immeasurable experience that the students were unlikely to get anywhere else.
"What they do at the medical center is very interdisciplinary. It's technology meeting medicine combined with the human element," Stewart said, "Some students had their eyes opened to whole new career and research opportunities."
The students who went on the trip were of a range of academic disciplines.
"We had students from all different majors. There were a few pre-physical therapy students, criminal justice majors, and bioengineering majors. It really shows the variety of the department," Stewart said.
As they left the tour, students and faculty reflected on their impressions of the experience.
"I am left with a hopeful feeling, seeing such care and research being put into helping improve the lives of those who were injured serving this country," STS instructor Nicole Thomas said.
The STS program organized the trip and invited all Scholars programs to join. Life Sciences, Advocates for Children, Media, Self and Society, Business, Society and the Economy and Science, Discovery and the Universe all sent students on the trip along with STS.
(story adapted from a College Park Scholars press release)
Published October 27, 2008