Liu Honored for Research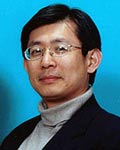 Electrical and Computer Engineering (ECE) Professor K. J. Ray Liu will receive the A. James Clark School of Engineering Faculty Outstanding Research Award at the Clark School's fall commencement ceremony on December 21.
The award was given to Dr. Liu in recognition of his pioneering work in the research areas of information forensics and security, wireless communications, and bioinformatics. Dr. Liu is the only Clark School faculty member who has received both the Outstanding Faculty Research Award and the Poole and Kent Outstanding Teaching Award for Senior Faculty.
"Dr. Liu's work has brought [him] high distinction as a preeminent leader in the field, and also has brought high credit to the Clark School and the University," Clark School Interim Dean Herb Rabin wrote in a statement.
The Outstanding Faculty Research Award was instituted to recognize exceptionally influential research accomplishments by faculty in the Clark School. The award consists of a plaque, a cash award in the amount of $2,000, and a research augmentation award worth $5,000 per year for three years.
Liu's research spans broad aspects of wireless communications and networking; multimedia communications and signal processing; information forensics and security; bioinformatics and system biology; and signal processing algorithms and architectures.
Liu is director of the Communications and Signal Processing Laboratory and associate chair for graduate studies and research in ECE. He has published more than 450 refereed papers, books, and book chapters. Liu is the recipient of numerous external and internal honors and awards, and serves in editorial positions for prestigious journals.
Published October 28, 2008