Students Tour Nearby Army Research Lab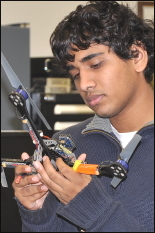 Sixteen students toured the
(ARL) on Nov. 3, 2010. The trip was sponsored by the
University Certificate program in Science, Technology and Society
(STS) and was open to the campus community.
The ARL oversight body, the Army Research, Development and Engineering Command (RDECOM) entered into a Cooperative Research And Development Agreement with University of Maryland on Sept. 28. Students on this trip therefore got an intimate view of research opportunities only 3 miles from campus in Adelphi. The ARL supports summer research internships for undergraduates in many fields; graduate students also pursue research at ARL.
The trip attracted students majoring in engineering (aerospace, civil, electrical and mechanical), kinesiology, business, and history. Most students are in College Park Scholars and two are earning the University Certificate in STS.
Undergraduate research at ARL
Dr. Val Emery and Dr. Reed Skaggs oriented students to ARL's mission and opportunities for student work. Several federal programs provide summer employment, and several of the researchers who spoke to us had been summer interns at ARL or had earned their B.S. or Ph.D. from UM. In addition to summer jobs, ARL employs undergraduates during winter and spring break, and previous interns often continue part-time employment at ARL. ARL at Adelphi is only part of the much larger RDECOM, which has research facilities across the country.
Research Labs
Our tour entered four research areas and spoke with the researchers, themselves. Tom Walker described the work of Unattended Ground Sensors, David G. Baran of Small Robot Behaviors, Dr. Matthew D. Servinsky of the BioTech Lab, and Gunjin Verma of the Wireless Emulation Lab. These areas represent a small fraction of the breadth of research on this enormous campus.
Unattended Ground Sensors
Tom Walker showed us an array of sensors, describing some of their constraints and requirements and the ways soldiers can deploy them. A critical research area is extending battery life so that soldiers do not have to visit unattended sensors as often to swap out batteries. Several kinds of sensors can trigger the camera - magnetic, sonic, seismic - which then send a picture wirelessly to a person who interprets it and, in turn, sends intelligence to soldiers in the field. Because several components of the sensor system are buried, they are resilient to water and other environmental hazards. Thousands of these systems are deployed now.
Small Robot Behaviors
Dave Baran, who earned his B.S. in computer engineering from UM, described research about algorithms that enable small robots to move autonomously through a new environment, interpret visual intelligence, and collaborate to map open space. Currently, it takes 2-3 people to operate a robot in the field, and integrating more intelligence in the robot reduces the number of people. Baran's lab brings their robots to groups of soldiers to try different controllers, and their reactions and observations are reflected in the next versions of robot design. The robots are built out of standard, commercial components, but once their software enables them to operate as desired, a different lab takes responsibility for transforming them into something that can be used in the field. Last summer the lab employed 10 undergraduates.
BioTech Lab
Matt Servinsky, who recently earned his Ph.D. in Molecular and Cell Biology from UM, oriented us to the equipment and research in the several inter-connected rooms of this research area. The microscopy room has an environmental Scanning Electron Microscope which images organisms and Fluorescence Microscope. The lab is investigating microbial fuel cells that would use organic materials readily available in the environment, such as tree sap, to generate electricity. Such an electricity generator could power unattended sensors sensors. The lab's research was recently published in the journal Microbiology. Two undergraduates work in this lab each summer.
Wireless Emulation Laboratory
Gunjin Verma provided an overview of the challenges of emulating Mobile Ad Hoc Networks of up to 1000 nodes. This technology is theoretical, but could be implemented within the decade; it would enable soldiers carrying a wide variety of portable devices to communicate as a network. The lab emulates environmental factors that can degrade communication, including distance, a lost node, and weather. The lab seeks to create networks that are resilient and robust given these problems; its work is part of ARL's leadership in the discipline of network science. Students were able to control a 3-wheeled robot on the floor of the lab through an iPad, experiencing the degradation of control created by the emulation even when the robot is "right there" bumping into your toe. The lab has employed undergraduates through the STEP program.
Next Steps
After the tour, students were very keen to trek to Aberdeen Proving Ground, another site where ARL conducts research. The University Certificate program in STS will plan a trip to Aberdeen for the Spring 2011 semester.
Published November 4, 2010