Link Receives Gold de Fleury Medal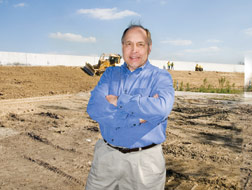 Senior Fellow Lewis "Ed" Link of the Clark School's Department of Civil and Environmental Engineering received this year's gold de Fleury Medal, the main professional excellence award given by the Army Engineer Association. The association specifically recognizes his work with the U.S. Army Corps of Engineers.
Link's award citation reads:
"Dr. Link's exceptional service and expertise has earned him numerous accolades from both the academic and scientific fields; and he has received numerous awards from varied institutions recognizing his work in Engineering Research and Development. As a senior executive service civilian, Dr. Link served as the Director of Research and Development and principal scientific advisor to the Chief of Engineers, from 1996 to 2002. During this period he led a diverse research and development program exceeding $550 million dollars annually, and also served as the Acting Director of the U. S. Army Engineer Research and Development Center. Dr. Link currently serves as the Director, Interagency Performance Evaluation Task Force, leading the forensic analysis of Hurricane Katrina in New Orleans: and has received the McGraw Hill, Engineering News-Record award of Excellence in 2007 for his work on Hurricane Katrina. Dr. Link's professionalism and outstanding achievements reflect great credit upon himself, the Engineer regiment and the Nation. "
The U.S. Army Chief of Engineers awards one gold medal each year to an individual who exemplifies boldness, courage, and commitment to a strong national defense.
Published May 7, 2010