Sedwick Receives CAREER Award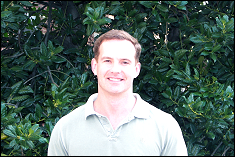 Department of Aerospace Engineering Assistant Professor Ray Sedwick has received a $400,000 National Science Foundation Faculty Early Career (CAREER) Award.
The award will fund Sedwick's research into helicon radio-frequency plasma generation for propulsion and semi-conductor manufacturing. Sedwick is an expert in space power and propulsion, specifically the application of nuclear fission and fusion to space transportation.
"It's always rewarding, more than just monetarily, when an agency-appointed group of recognized experts in your field can agree that your research idea is good enough to be funded," stated Sedwick. "To have that agency be the National Science Foundation, and that funding be a CAREER grant, is really quite an honor for me."
Sedwick has plans to involve undergraduate and graduate students in his research and will develop related coursework. He also hopes to attract the interest of high school students by demonstrating the connection between his work and consumer products, in particular the plasmas used in today's high-definition televisions.
The Clark School currently has four NSF CAREER Award winners and one PECASE Award winner. The CAREER Program is a foundation-wide activity that offers the National Science Foundation's most prestigious awards in support of junior faculty who exemplify the role of teacher-scholars through outstanding research, excellent education, and the integration of education and research within the context of the mission of their organizations.
Published February 3, 2009