Hwang Appointed Associate Director of CEEE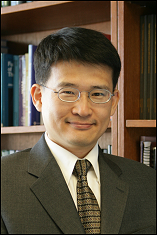 The Clark School has announced the appointment of Yunho Hwang, research associate professor, as associate director of the Center for Environmental Energy Engineering (CEEE). In this position, Hwang will oversee the day-to-day operations of the center – a world-renowned research facility engaged in the study of environmentally responsible, economically feasible distributed energy conversion systems for buildings and transportation.
Hwang accepts his new responsibilities in addition to his directorship of the center's Alternative Cooling Technologies and Applications consortium – a research group that focuses on developing comprehensive information for the detailed physics of transport processes, new cost-effective test methods, and innovative components and systems as they pertain in particular to climate control and heat pumping.
Hwang is an expert in refrigerant alternatives research, particularly involving natural refrigerants. His career spans more than twenty years and he is the author of two books, Vapor Compression Heat Pumps with Refrigerant Mixtures, (with Reinhard Radermacher), and Technical Heat Transfer, and was a contributing author to Automotive Air-Conditioning, 2nd Edition. He has also published more than 100 articles and papers in the field, and holds a number of invention records and patents. He is an active member of the American Society of Heating, Refrigerating and Air-Conditioning Engineers, the American Society of Mechanical Engineers and the Society of Automotive Engineers.
Published February 3, 2009