Rebois Honored Again with Udall Scholarship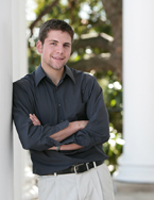 Mechanical engineering junior Dylan Rebois, a recently named
Truman Scholar
, also has won a prestigious Udall Scholarship. He is one of 80 student recipients in the country and one of only two students on the campus to be so honored.
The Udall Scholarship program recognizes future leaders across a wide spectrum of environmental fields, including policy, engineering, science, education, urban planning and renewal, business, health, justice and economics. The scholarship provides up to $5000 for tuition and other educational expenses. The program was established by the U.S. Congress to honor Congressman Morris King Udall's 30-year legacy of public service.
Rebois is an Honors College member, participated in the Gemstone Program and is a Banneker-Key Scholar. He has a 4.0 GPA. For Engineers Without Borders he served as design lead in Burkina Faso and project lead in Ethiopia. His interest and leadership in sustainability is reflected through his membership in the Student Sustainability Committee, appointment to the Student Subcommittee of the University Sustainability Council, and participation in the University Climate Action Plan Workgroup. He is conducting research with Prof. Christopher Cadou on micro-combustion visualization. Rebois also is a teaching fellow with the Clark School's Keystone Program.
Published April 8, 2010