Two UMD Bioengineering Majors Named 2023 Goldwater Scholars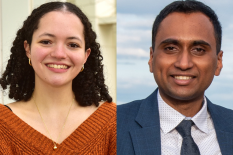 Corinne Martin and Neel Panchwagh, juniors in the Fischell Department of Bioengineering at the University of Maryland, have been awarded 2023 scholarships by the Barry Goldwater Scholarship and Excellence in Education Foundation, which encourages students to pursue advanced study and research careers in the sciences, engineering and mathematics.
Martin and Panchwagh, along with UMD physics and mathematics double-degree student Deven Bowman, are among 413 Goldwater Scholars selected from 1,267 nominees nationally. Goldwater Scholars receive one- or two-year scholarships that cover the cost of tuition, fees, books, and room and board up to $7,500 per year.
Over the last 15 years, UMD's nominations yielded 49 scholarships—the most in the nation. The Goldwater Foundation has honored 79 UMD winners and five honorable mentions since the program's first award was given in 1989.
"We are immensely proud of all that Deven, Corinne and Neel have accomplished to this point and the bright futures ahead of them. Their success is a win for everyone at the University of Maryland and highlights the commitment of the university to provide opportunities for our students to advance knowledge in their research disciplines and address grand challenges that impact people and communities, both locally and globally," said Robert Infantino, associate dean of undergraduate education in the College of Computer, Mathematical, and Natural Sciences. Infantino has led UMD's Goldwater Scholarship nominating process since 2001.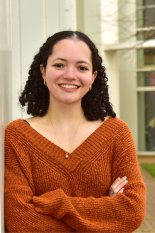 Corinne Martin
Martin participated for the past two summers in the Nathan Schnaper Intern Program in Translational Cancer Research, a selective undergraduate research program at the University of Maryland School of Medicine. In the lab of Alexandros Poulopoulos, an assistant professor in pharmacology, she investigated the genetic regulation of neuronal axon projection and cancer progression in the brain.
"I'm grateful to Dr. Poulopoulos for giving me the freedom to develop my own project, which allowed me to dive deeply into the process of identifying an important question, developing an informed hypothesis and forming a hypothesis-driven approach to answering the question," Martin said.
Using a cancer genomics database, Martin found that mutations affecting a specific signaling pathway called the mammalian target of rapamycin (mTOR) pathway correlated strongly to increased survival outcomes in brain cancer patients. She then developed a genetic editing strategy to test the effects of these mutations on axon projection.
In addition, Martin troubleshot the code for a web tool called PegAssist that was developed by the Poulopoulos lab to facilitate the use of a technique called prime editing by the broader biomedical community (called pegassist.app). Prime editing—a new hybrid technology that combines the gene-editing tool CRISPR with viral reverse transcriptases—holds promise as a rapid genome editing tool that will enable personalized medicine at levels broadly accessible in clinical settings. The new tool helps researchers design complex prime editors—breaking down one of the major barriers to adopting this new technology.
Last fall, Martin joined the lab of Christopher Jewell, Minta Martin Professor of Engineering and MPower Professor in UMD's Fischell Department of Bioengineering, to conduct immune engineering research for her undergraduate honors thesis. She is developing a biomaterial platform to efficiently deliver the metabolite itaconate into a mouse model to manipulate immune cell metabolism for the treatment of multiple sclerosis. Martin recently co-authored a review article on engineering immunometabolism that has been submitted for publication and she will present a poster in May at Immunology2023, the conference of the American Association of Immunologists.
"Corinne is already performing at the level of a graduate student," Jewell said. "Her creativity, stunning intellect, infectious enthusiasm and kindhearted nature set her apart."
This summer, Martin will intern at Genentech in South San Francisco on the molecular genetics team, which develops, advances and optimizes gene-editing technologies that support the drug development efforts at the company.
At UMD, Martin is a member of the Design Cultures and Creativity program in the Honors College. For her award-winning capstone project, she created an enrichment program to teach crocheting to individuals incarcerated at prison facilities. Her work on education and mass incarceration continues through a practicum where she currently tutors incarcerated students at the Jessup Correctional Institution through the University of Baltimore's Second Chance College Program.
She also volunteers as a tutor for The Every Child Project, creating lesson plans and holding virtual tutoring sessions twice a week to support two K-12 students at risk of falling behind. She first found her love of teaching as a taekwondo instructor, holding the rank of third-degree black belt and teaching classes to both children and adults in her spare time.
After graduation, Martin plans to pursue a Ph.D. in bioengineering and lead an academic research lab focused on immune engineering to advance novel therapeutic strategies for autoimmune diseases, such as Crohn's disease.
"More than 50 million people worldwide are affected by autoimmune diseases, many of which are incurable and require lifelong treatment. As I know through my own battle with Crohn's
disease, these therapies often work by suppressing immune cells without distinguishing between healthy and self-reactive cells, impairing healthy immunity and leaving patients vulnerable to infection," Martin said. "My career will leverage bioengineering approaches to selectively tune the immune response, improving treatment efficacy while minimizing side effects for patients."
Neel Panchwagh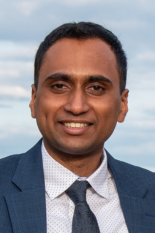 Panchwagh began his research career as a junior in high school when he joined the cancer metabolism lab of Marcus Goncalves at Weill Cornell Medicine in New York City. There, he helped to characterize the effects of fructose metabolism on colorectal cancer growth and energy regulation.
During his freshman year at UMD, Panchwagh joined Brady Maher's lab at Johns Hopkins University's Lieber Institute for Brain Development. There, he studied mutations in the TCF4 gene, which are commonly seen in patients with the rare neurodevelopmental disorder called Pitt-Hopkins Syndrome. He investigated TCF4's effect on neuronal communication and regulation and the formation of the cerebral cortex of the brain. Panchwagh co-authored a paper about this work that was recently submitted for publication.
Since September 2021, Panchwagh has been conducting pancreatic cancer research at the National Cancer Institute with Christine Alewine. First, he investigated the role of the ID3 gene in DNA damage response pathways in pancreatic cancer lines. Now, he leads an independent project investigating the role of soluble mesothelin in pancreatic adenocarcinoma. Mesothelin is a protein that plays an active role in both malignant transformation and tumor aggressiveness.
"I have gained experience designing experiments, troubleshooting protocols and deciding what aspect of my project I want to tackle next," Panchwagh said.
He will present a poster on his mesothelin work at the American Association for Cancer Research Annual Meeting later this month and will continue working in Alewine's lab this summer.
Outside the lab, Panchwagh served as a congressional intern in the U.S. House of Representatives for Rep. Frank Pallone (NJ-06) and volunteers as a site leader for One Tent Health, providing HIV tests to the medically underserved population in D.C. and informing them about the importance of testing and safe health practices. He also serves as vice president and head delegate for UMD's Model United Nations Team, helping students win awards at multiple conferences.
He served as a teaching assistant for a new course, HLSC 208: Integrative and Quantitative Concepts in Biology, taught by Najib El-Sayed, a professor of cell biology and molecular genetics and director of the Integrated Life Sciences program in the Honors College. Panchwagh led group discussions as well as lab exercises in R programming for biologists.
"Neel truly stood out, becoming a distinct and unique driving force behind many of the discussions in our preparation sessions," El-Sayed said. "He brought an element of initiative, leadership and enthusiasm that is rarely seen in classes where complex material is taught and always thought of applications to real-life situations."
Panchwagh, a Banneker/Key Scholar and member of the Integrated Life Sciences program in the Honors College, was inducted into the national engineering honor society Tau Beta Pi in 2021.
After he graduates, Panchwagh plans to pursue an M.D./Ph.D. in oncology. He hopes to contribute to translational research by developing novel engineered therapeutics that target the molecular mechanisms that govern cancer biology.
"Through my experiences, I have seen how physician-scientists use their medical background to
tailor research toward patient impact," Panchwagh said. "My first principal investigator, Dr. Goncalves, inspired me to pursue this career path by focusing on specific lab objectives based on the needs of his patients. My current PI, Dr. Alewine, uses her knowledge of how pancreatic cancer tumors develop in patients to design more realistic experiments. The M.D./Ph.D. route will allow me to gain an understanding of the research process while receiving comprehensive medical training."
Story written by Abby Vogel Robinson (CMNS)


Published April 4, 2023