Clark School Student Wins Udall Scholarship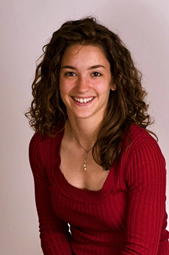 Civil engineering junior Erin Hylton is a Udall Scholar for 2012, in recognition of her work in environmental studies.
Hylton is president of the campus chapter of Engineers Without Borders and leads the new Maryland Sustainability Engineering group. She is a Banneker-Key Scholar and an honors student and has participated in the Federal Semester program in the Energy and Environmental Policy track.
The Udall Scholarship program recognizes future leaders across a wide spectrum of environmental fields, including policy, engineering, science, education, urban planning and renewal, business, health, justice and economics. The scholarship provides up to $5,000 for tuition and other educational expenses. The program was established by the U.S. Congress to honor Congressman Morris King Udall's 30-year legacy of public service.
Hylton is the second Clark School student in three years to be recognized with this award. In 2010, Dylan Rebois also was named a Udall Scholar.
Published March 28, 2012