Rebois Awarded Prestigious Marshall Scholarship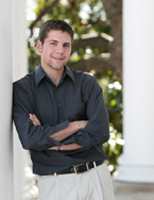 Mechanical engineering senior Dylan Rebois has won a prestigious Marshall Scholarship.
The Marshall Scholarship provides two years of full support for study in the UK, including university fees, cost of living expenses, annual book, thesis, research and daily travel grants, and travel expenses to and from the United States. Rebois plans to complete two one-year degree programs in engineering and sustainability studies at Imperial College London and the University of Cambridge.
Rebois is a member of the University Honors College as well as the Gemstone program. He has distinguished himself in many campus leadership roles in environmental and sustainability issues, and is currently president of UM's chapter of Engineers Without Borders. This past summer he undertook research on alternative energy development in Bahrain, Qatar, and the United Arab Emirates and subsequently served as a research assistant with the Brookings Institution's Energy Security Initiative.
Last year, Rebois was named a Truman Scholar and won a Udall Scholarship.
Published January 24, 2011