Green Wins Entrepreneurship Education Competition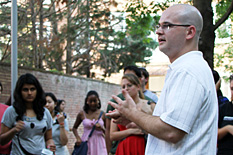 James V. Green, director of entrepreneurship education and director of the Hinman CEOs Program in the Maryland Technology Enterprise Institute (Mtech) at the University of Maryland, took first place in the 2011 3E Learning Innovative Entrepreneurship Education Competition for his "Team Challenge of Risk and Reward" activity.
The award, presented at the United States Association for Small Business and Entrepreneurship (USASBE) annual conference in Hilton Head, S.C., recognizes college educators who have created new and challenging learning activities that actively involve students in the entrepreneurial experience.
Green was selected from more than 30 entrants. Entries were judged for their innovation, critical thinking, theoretical foundation, and replicability.
"Mtech has long been a national leader in entrepreneurship education, from creating the nation's first undergraduate living-learning entrepreneurship initiative, the Hinman CEOs Program, to offering 30 courses to 1,244 enrollees in 2010 for students at every level, from eighth grade and high school to undergraduate, graduate and executive education," says David Barbe, director of Mtech. "Through all of our entrepreneurship education activities at Mtech, we are continually pushing the envelope for innovative ways to teach students at all levels how to be successful entrepreneurs. James has led that charge."
Green's winning activity, the Team Challenge of Risk and Reward exercise, engages students in a real-time classroom decision of risk assessment and team decision-making. Through a six-phase process, students develop creative ideas individually, come together to work in teams and engage in a real-life lesson in risk.
The exercise is just one example of the innovative entrepreneurship education initiatives Green leads at Mtech, which include 15 undergraduate and five graduate courses, five executive education modules, four summer courses for high school students, and one for eighth graders.
Green also oversees three undergraduate entrepreneurship initiatives at the University of Maryland: the Hinman CEOs Program for juniors and seniors, the Entrepreneurship and Innovation Program for freshmen and sophomores, and the Hillman Entrepreneurs Program for students transferring from Prince George's Community College. Each of these programs features experiential learning, dynamic courses, seminars, workshops and competitions to deliver a world-class education in entrepreneurship and innovation.
Hinman CEOs, the nation's first living-learning entrepreneurship program for juniors and seniors at the University of Maryland, places entrepreneurially minded students from all technical and non-technical academic disciplines in a unique community where they live together, learn about entrepreneurship, and can launch new ventures. Launched in 2000, Hinman CEOs has two graduate companies in the Inc. 500 list of the fastest growing companies in the U.S. for the second straight year, Squarespace Inc. and Lurn Inc. Companies in the program have generated $35 million in revenue.
The Entrepreneurship and Innovation Program, spearheaded by Green and launched during fall 2010, is modeled after the Hinman CEOs living-learning entrepreneurship program and is offered to freshmen and sophomores.
Mtech's Hillman Entrepreneurs Program is a unique four-year scholarship and entrepreneurship education initiative tailored to transfer students who begin their study at the Prince George's Community College and complete their bachelor's degrees at the University of Maryland.
Published January 19, 2011