Nanopaper Featured in Nature Photonics News & Views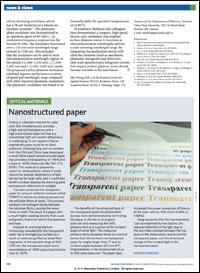 A transparent "nanopaper" engineered at the University of Maryland has been highlighted in a March 2014 Nature Photonics News & Views article.
The material, most recently described in Nano Letters, is 96 percent transparent and has an optical haze of 60 percent. It has the potential to become a new solar cell substrate because its qualities can be adjusted during manufacture to control how much it transmits or absorbs light, and because of its reduced dependence on a particular angle of light for maximum effectiveness. Additional enhancements allow it to be used in the creation of printed electronics and antiglare touchscreens.
The Bing Research Group, led by Assistant Professor Liangbing Hu (MSE/Maryland NanoCenter/University of Maryland Energy Research Center), created the plastic-like paper, which in the past year alone has received international attention in publications including Chemical & Engineering News, ACS Nano, MRS Meeting Scene, Chemistry World, Energy and Environmental Science, Nanowerk, and the Journal of Materials Chemistry C. Hu also presented his group's work at the 247th National Meeting of the American Chemical Society and delivered a keynote presentation at the 2013 Printed Electronics U.S.A. Conference.
"We're really excited about the all the buzz Bing's nanopaper has generated," says Professor and Chair Robert M. Briber (MSE). "Generally only the most exciting new research gets featured in a News & Views article."
For More Information
Noriaki Horiuchi. "Optical materials: Nanostructured paper." Nature Photonics 2014, 8, 172. Online
Zhiqiang Fang et. al. "Novel Nanostructured Paper with Ultrahigh Transparency and Ultrahigh Haze for Solar Cells." Nano Letters, 2014, 14 (2), pp 765–773. Abstract
Published March 26, 2014