Air Force Supports Study on Nanopaper for Electronics, Aircraft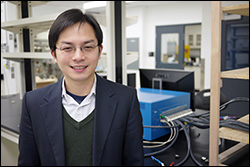 Clark School Department of
Materials Science and Engineering (MSE)
assistant professor
Liangbing Hu
has received a U.S. Air Force Office of Scientific Research Young Investigator Program Award (AFOSR YIP) to fund his research group's study of nanopaper, a lightweight, strong, transparent material that can enable a range of new and improved electronic technologies.
Hu, a member of the University of Maryland Energy Research Center (UMERC) and the Maryland NanoCenter, was one of only 40 researchers nationwide to receive the highly selective award, which "foster[s] creative basic research in science and engineering [and] enhance[s] early career development of outstanding young investigators."
Like ordinary paper, nanopaper is made of wood pulp, but reconstructed at the nanoscale to enhance its properties. The fibers that make up a sheet of paper are typically 20 microns in diameter, and each of those fibers is made of a network of even smaller fibers approximately 10 nanometers in diameter. Hu and his team break down the 20-micron fibers into their nanoscale components, then re-create the paper entirely out of them. The nanoscale fiber construction dramatically reduces the paper's ability to scatter light, resulting in a material that is 90-95% transparent. The application of a thin coating of carbon nanotubes makes the paper strong and highly conductive—ideal for use in printed electronics, such as circuit boards.
"Plastic has been used in [printed] electronics for many years," explains Hu, "but there are many problems with it: it's thermally unstable, not as printable as paper, and it's not based on renewable materials. We are trying to replace plastic with renewable nanopaper." Nanopaper, he says, could be manufactured from a renewable wood crop or recycled paper.
The potential benefits aren't only ecological, he adds. The Air Force's Lightwight Materials Program is interested in the development of nanopaper for use in aircraft, which require light, strong materials that can function reliably at various altitudes, temperature, and pressures.
Hu's proposal, "Manipulation of Electrons, Ions and Photons in Lightweight, Multifunctional Nanostructured Paper," will investigate nanopaper's fundamental interactions with electrons, photon and ions, with the goal of producing high-performance electronic devices for Air Force applications.
"Professor Hu's ideas on using nanostructured paper as a novel, lightweight, multifunctional material for flexible electronics and energy storage are extremely innovative and hold tremendous promise," says MSE professor and Chair Robert M. Briber. "The Department is very excited that he's won this award and we look forward to fascinating new developments in this field."
For More Information:
Visit Professor Hu's web site »
Read the AFOSR press release »
Published January 30, 2013