Glenn L. Martin Wind Tunnel Through the Years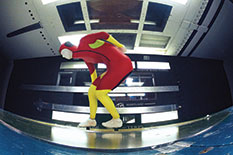 The University of Maryland's A. James Clark School of Engineering is proud to celebrate its 125th anniversary in 2019 and an enduring tradition of research, learning, and innovation. The College of Engineering joined what was then known as the Maryland Agricultural College in 1894. As we prepare to celebrate 125 years of daring vision and lasting impact, we're uncovering the rich history of the Clark School.
Take a look at what we've discovered so far!
Founded in 1949, the Glenn L. Martin Wind Tunnel is celebrating 70 years of aerodynamic research and development. Take a look back at the Wind Tunnel through the years!
The Wind Tunnel was constructed in 1949 when aviation pioneer Glenn L. Martin generously gifted $2.3 million to the College of Engineering. Outfitted with state-of-the-art equipment, the tunnel conducts low-speed aerodynamics and hydrodynamics development tests for a variety of vehicles and systems. During its first 15 years the tunnel was in great demand by its primary customer, the Martin Aircraft Corp., and many other aircraft companies including Lockheed Corp. (now merged with Martin as Lockheed Martin). Other important users included the Naval Ordnance Laboratory, Naval Ship R&D Center for submarine testing, truck and trailer manufacturers, and several automobile companies. The Wind Tunnel was a Department of Defense classified facility from its opening to 1970, as much of its work involved testing military aircraft and other Department of Defense devices.
Since 1949 the facility has conducted more than 2,200 tests for 300 distinct clients. With the capability to generate wind speeds up to 230 miles per hour, the tunnel has tested cars, airplanes, clothing, and everything in between.
| | |
| --- | --- |
| | Ford Motor Company tests a variety of their design for the Ford Taurus. |
| | Under Armour, founded by UMD alumnus Kevin Plank, tests the aerodynamics of speed skating gear in 2012. |
| | Annapolis sailing company, Quantum Sails, tests their sail designs in 2003. |
| | The Wind Tunnel is also used to test the strength of hurricane force winds and give invited members of the media an understanding of what high speed winds feel like in a safe, controlled environment in the Clark School's annual Wind Tunnel Media Day. |
| | Dennis Loveless, an aerospace engineering graduate, climbs out of the Wind Tunnel after conducting research, circa 1980. |
| | Faculty alter their design in the Wind Tunnel, circa 1960. |
| | Unknown man in the newly constructed Wind Tunnel, 1949. |
Published May 24, 2019