Move a Great Idea Forward: The Stance Prosthetic Foot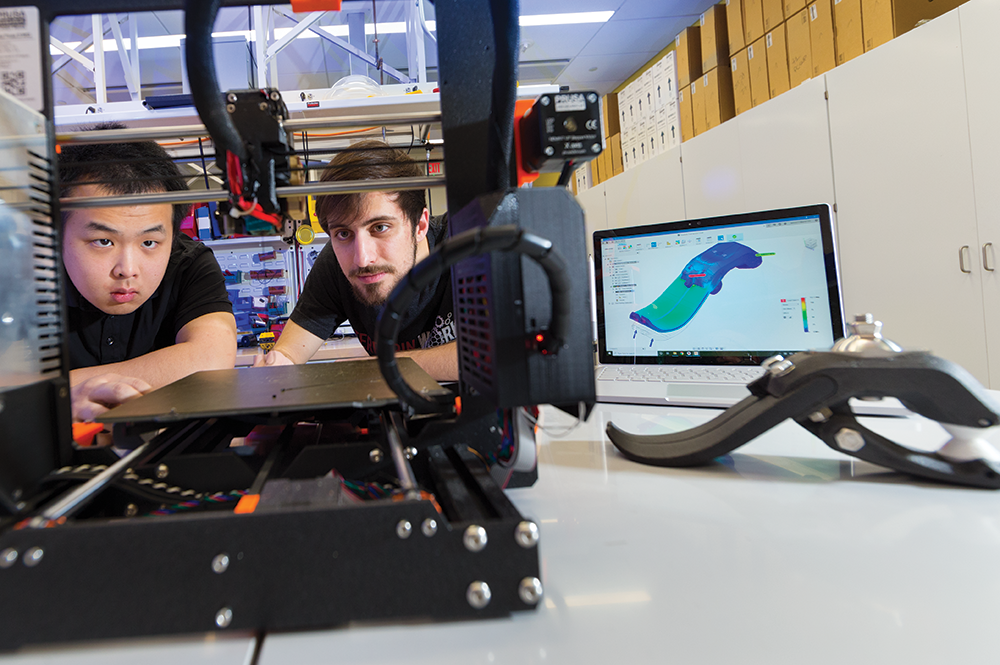 Imagine all the great ideas that wither with the end of a semester. It's often in the last weeks of an academic term when students feel they are gaining traction on an idea, only to have it take a backseat to the frenzy of final exams. So when mechanical engineering undergraduate Karl Zhao presented an idea for a truly revolutionary 3D-printed prosthetic foot as part of an introductory class on 3D printing and prosthetic design, instructor Angie Bryl ('04) and student teachers Saul Schaffer and Anna Packy knew they needed to find a way to keep the project afloat after the end of class.
Called the Stance, Zhao's custom, modular, and durable foot could help fill a critical gap in the prosthetics industry, according to Bryl, who is also a clinical director and prosthetist orthotist for Dankmeyer, Inc. Despite the fact that lower-extremity prosthetics are the largest market for prosthetics in the world, prosthetic feet are almost entirely produced through traditional manufacturing methods.
"At the time the course started, there were literally just a handful of 3D-printed designs for prosthetic feet out there," says Bryl. "We saw this as an opportunity for students to design something that's truly unique, something that's never been done before. Karl's design was just above and beyond anything we could have ever imagined, and we really wanted to help him move it forward."
The Stance takes inspiration from current prosthetics on the market, with some notable exceptions. It employs 3D-printable carbon fiber polycarbonate to mimic the flex of commercial carbon fiber used in traditional prosthetics, and the right amount of energy conversion to roll through a step without snapping. While current prosthetic fittings only consider foot length and an estimated level of impact, Karl's design is much more customized; different parts of the foot can be made stiffer, lighter, or wider. And unlike traditional models that require a whole new foot if something breaks, the Stance is modular. If a part breaks, it can be simply be reprinted and snapped into place.
"With 3D printing, it comes down to your creativity," says Zhao. "Products that are 3D-printed will naturally be weaker than ones made from traditional manufacturing. So, you have to be creative with your design and see how you can work around those limitations."
"What started out as a fun class project resulted in an innovation that has real implications in the industry. And that's all due to Karl and his dedication."
What truly sets the Stance apart is its global potential. Based off a standard 3D printer, which typically runs around $700, the Stance can be customized and printed for around $30, versus the $100–$1,000 range of traditionally manufactured models. The design software takes about 10 minutes to learn. Bryl sees this as a game changer for the developing world, where cost and vailability are often barriers to accessing high-quality prosthetics.
As an Mpact Challenge project, Zhao was afforded the materials and time to hone his design and test it with actual amputees in Bryl's clinic. He is currently integrating their feedback to improve the design. Eventually, he hopes to put the design out to the world open-source.
"My goal isn't to make money off of this," says Zhao. "I see this as something that could potentially help someone in their everyday life."
"I am just amazed by these students," Bryl says. "As someone who's been in the field a long time, it's so refreshing to see their energy, their willingness to try things and—even if it doesn't work—learn from it. Karl specifically has been so inspiring and driven. What started out as a fun class project resulted in an innovation that has real implications in the industry. And that's all due to Karl and his dedication."
Read more about the Mpact Challenge projects.

Published March 15, 2020