Brand Savior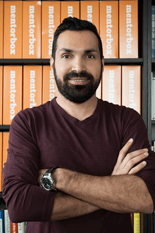 It may not seem like the logical next step for Zoosk Founder Alex Mehr (Ph.D. '03), but he is now co-owner and president of Dressbarn. The mechanical engineering alumnus has been on an unusual trajectory since leaving NASA and founding the online dating app Zoosk in 2007. As an engineer turned entrepreneur, he has turned his analytic mindset towards building and launching over 30 products and companies through online platforms, including MentorBox, along with fellow investor Tai Lopez and University of Maryland (UMD) alumnus Shayan Zadeh (M.S., computer science '02).
We recently had the opportunity to chat with Mehr and learn a little bit more about what led him to his current role with women's clothing brand Dressbarn.
Dressbarn seems like a huge departure from your other businesses, Zoosk and MentorBox. What made this an attractive project?
Honestly, I don't think of them as specifically what we sell. I think of them as internet brands. What I've done for the past twelve years—and how I've been an entrepreneur—is I build internet brands, and so far I've built them all from scratch. So my expertise is in building brands online from scratch.

About two, three years ago, I was tossing around this idea that [starting from scratch] is actually not the fastest and the smartest way to build these brands. What if we go and pick up brands that are huge, like Dressbarn? These brands have huge followings built over 50 some years, so you know, the work is done. They just haven't transformed into the modern day way of doing business, which basically means selling things through e-commerce online.

The brand is strong, so instead of building them from scratch, what if I go buy these brands that are suffering because their business model is wrong and build the internet brand based on that?
What do you think is your favorite part of this entire process?
It's funny, because, I am not a customer [of Dressbarn] myself, but I tell you, the pleasure I get from it is when people comment on our Facebook ads or Facebook posts, "I'm glad you guys are back!"
You know, they have all of these favorite items that Dressbarn sold that they thought they could no longer get, and now they can. So that actually kind of drives me. It feels like I'm saving something that people care about.
Everybody has a story. Everybody has something that they like and no longer exists.
What is it about these types of projects that excite you so much? What do you look for in new companies?
One of the terms that you probably have heard is "creative destruction," meaning new ideas come and wipe out the previous ideas—like companies—along the way.
I don't like that term. I don't think that is the only way to make progress forward. I want to coin the term "creative reinvention." This is a way for companies to make progress forward when there is a disruption in the marketplace. The companies that exist, they have history, like Dressbarn, and there is no reason to wipe them out.
With creative destruction, if nobody does anything over the next 10 years, a lot of iconic brands that you and I grew up with—and which took decades to get into the psyche of everyone and were part of our lives—will not be there for our grandchildren.
Creative destruction is not the only way to make progress. We can keep these things that are good, that [have] been around for a long time, and reinvent them. Just change the parts that are not working. That's kind of what I see myself as, the savior of those brands.
The old brands, if they are run the right way and think the right way, they can get back, defend themselves, and continue to exist. So instead of creative destruction, we would have all of this creative reinvention.
***
Look for more conversation with Mehr in this year's issue of METRICS out this fall.
Published March 12, 2020