Banas Family Provides Support for Future Engineers in the Keystone Program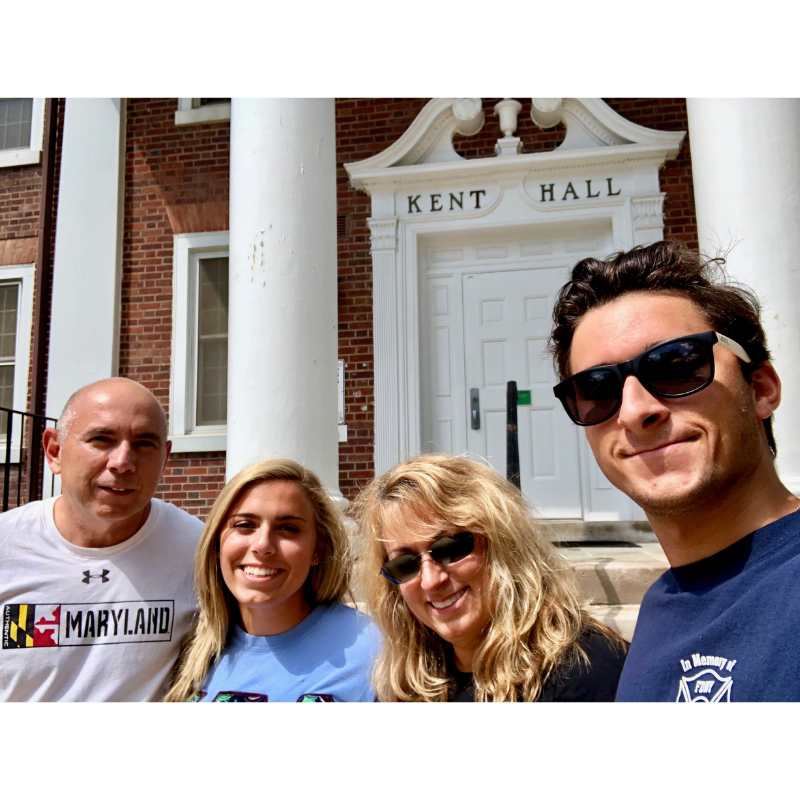 Introduction to Engineering Design (ENES100) is a required course in the University of Maryland's Keystone Program for all first-year engineering students. It is the only course in the Clark School that is taken by all engineering students from all disciplines. It is a project-based curriculum that requires working in teams to develop a complex and multidisciplinary product. For Casey Banas (computer engineering, '21), this course made a truly lasting impact and essentially shaped the rest of her college career.
"I really enjoyed being a student in the program,'' says Casey. "The group projects were tough, but provided me with crucial experience in engineering design. The faculty and program coordinators were very caring and passionate about their students, and it felt like a family within a bigger family."
During her sophomore year, she became a TA for the course, and enjoyed working with the new students and helping them learn how to code and build electrical circuits. "Watching the students come in their first year and learn about engineering and grow within the field, was very rewarding," she says. "The tutoring sessions hosted by the program are also key to helping young people become engineers."
Casey continued on as a TA for the course until she graduated with her bachelor's degree in computer engineering this past May. This summer, Casey will be joining L3Harris as a software engineer.
Casey's parents, Rob and Karen Banas, have been present during Casey's journey in engineering every step of the way, and they have generously gifted the Keystone Program $25,000.
"Seeing how Casey benefitted from the program, we wanted to give back and funnel support to keep the program running, and give staff and coordinators the support they need,'' said Rob, Senior Vice President of Property and Buildings at WSP USA. "We were so thrilled when Casey chose to major in computer engineering, and the Keystone Program played a large role in that decision."
Rob is originally from Pittsburgh, Pennsylvania, and an electrical engineer by trade. He moved to Maryland in 1985, and is very proud of Casey for joining the Electrical and Computer Engineering Department at the University of Maryland. "She joined a very prominent program and a tough major at the University, so I was glad to pass the torch to her," he says.
Karen is from Upstate New York and met Rob at Penn State University, where she earned her degree in business. She is very encouraging and supportive of Casey and the rest of their children in their careers. "The Keystone Program has helped Casey all the way, and we are so proud of her hard work in the class and as a TA helping other students excel," said Karen.
On their gift, the Banas acknowledged the support universities need to keep programs running, and they wanted to make sure the program and needed resources would be continually available for others. "The impact of the program and the foundational courses were so great on Casey, and we wanted to give back for this reason," they said.
"I am so grateful to the Banas' family for their generous donation to support the Keystone Program," said Kevin Calabro, Director of the Keystone Program. "This gift will help us to provide future students with similar experiences as Casey received while an undergraduate student. Specifically, this gift will help us to beautify and modernize our first and second-year makerspaces and to support our undergraduate teaching fellow program."
About the Keystone Program
The Keystone Program identifies the school's best professors to teach fundamental courses. They are given renewable three-year appointments and funding support and are reviewed for the academic excellence and high student interest achieved in their classes. By placing the best instructors in critical courses, Keystone is providing beginning engineers an enhanced educational experience, while reinforcing and recognizing outstanding teaching. Keystone serves as a national model for increasing engineering student retention and graduation rates.
Published August 6, 2021