Alumnus Adly Appointed Editor-in-Chief of IEEE Transactions on Magnetics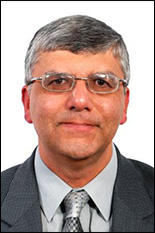 Alumnus Amr A. Adly (Ph.D. '92) has been recently appointed Editor-in-Chief of IEEE Transactions on Magnetics. This is a peer-reviewed, archival journal in science and technology related to the basic physics and engineering of magnetism, magnetic materials, applied magnetics, magnetic devices, and magnetic data storage.
Adly is currently a professor in the Department of Electrical and Power Engineering at Cairo University (CU) in Giza, Egypt. Previous positions he's held include Deputy Minister of Higher Education for University Affairs (2018-19) and CU Vice President for Graduate Studies and Research (2016-18).
Adly received his B.Sc. and M.Sc. in Electrical Engineering from CU in 1984 and 1987, and his Ph.D. from the University of Maryland, College Park (UMD) in 1992. While at UMD, Adly was advised by Alford L. Ward Professor and Distinguished University Professor Isaak Mayergoyz.
Adly's research interests include electromagnetics, electrical machines, analog and digital circuit design, and superconductivity. He became a fellow of the IEEE in 2011 and received the ECE Distinguished Alumni Award in 2016.
Published January 6, 2022