Liu Wins 2021 IEEE Fourier Award for Signal Processing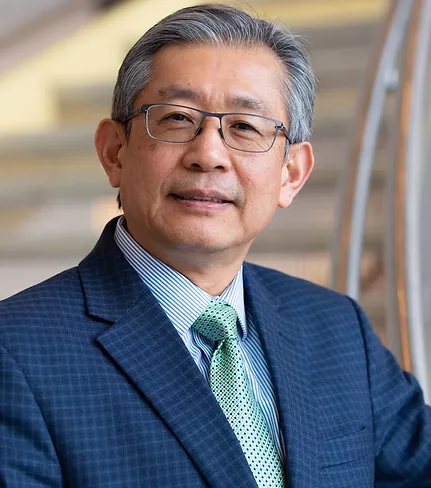 Distinguished University Professor and Christine Kim Eminent Professor of Information Technology K.J. Ray Liu, has been named the recipient of the 2021 IEEE Fourier Award for Signal Processing, an IEEE Technical Field Award, "for outstanding leadership in and pioneering contributions to signal processing for wireless sensing and communications."
For nearly a century, the IEEE Awards Program has paid tribute to technical professionals whose exceptional achievements and outstanding contributions have made a lasting impact on technology, society, and the engineering profession. The IEEE Fourier Award for Signal Processing was established in 2012, and is sponsored by the IEEE Signal Processing Society and the IEEE Circuits and Systems Society. The award recognizes an individual or a team of people for outstanding contributions to the advancement of signal processing, other than in the areas of speech and audio processing. Liu will receive a bronze medal, certificate, and cash prize for this honor.
Prof. Liu is a world leader in signal processing for wireless sensing and communications, both as a trailblazer and an entrepreneur. His pioneering and outstanding technical contributions encompass a broad range of signal processing, trailblazing its frontiers and scopes. His work has been recognized with prestigious honors, numerous keynotes, distinguished lectures, honorary professorships, and over a dozen prize paper and invention awards. He has trained over 68 Ph.D. students and postdocs, of which ten have become IEEE Fellows and most are active in major universities and industries worldwide.
Wireless indoor localization has been a long-standing conundrum for over three decades. Prof. Liu discovered that due to a large number of multipaths, the time-reversal focusing effect exhibits an energy distribution whose stationary behavior can be harnessed to accurately estimate speed under severe indoor multipaths, a groundbreaking discovery that broke the impasse of more than 170 years of search for such a solution since the Doppler Effect. His invention solved this long standing, difficult problem by achieving a 1-2 centimeter location accuracy under non-line-of-sight conditions with only a single WiFi device. This is the world's first-ever invention that can achieve such a performance and track an unlimited number of users indoors without costly infrastructure, an achievement that no other known solutions can reproduce.
With that as the foundation, Prof. Liu founded Origin Wireless, further developing a wireless AI platform consisting of many analytic engines that can detect human motion, fall, and vital signs such as breathing rate and heartbeat, human biometric, and monitor sleep and well-being, without any wearables by using commodity WiFi. His invention, the Time Reversal Machine, won the prestigious 2017 CEATEC Grand Prix award and the CES 2020 Innovation award. It is the only company in the world offering such capabilities and superb performance.
Previously, when the concept of cooperative communication was first emerging, Prof. Liu was among the earliest to recognize its impact would be far-reaching beyond physical-layer and can fundamentally revolutionize wireless communications in almost every aspect. He set forth to show the brilliant possibilities of cooperation in a series of seminal work to establish cooperation as a new communication paradigm that can improve communication performance, expand transmission coverage area, improve energy efficiency and extend network lifetime, and increase throughput and stability region for multiple access schemes.
He was among the first to employ game theory to devise optimal solutions and strategies in cognitive radio for dynamic spectrum access, allocation, sharing, sensing, security, and anti-jamming. His pioneering works created the game-theoretic foundation for cognitive networking by developing new frameworks of joint learning and decision making. It enabled true cognitive intelligence and adaptation with user interactions that made the dream of cognitive networking possible.
Prof. Liu also spearheaded cross-layer-design using antenna array for wireless communications in 1997 by first introducing the seminal concept of duality between uplink and downlink for joint transmit beamforming and power control to increase the number of users in a cellular network by 100x, the first theoretical work that showed the significant capacity improvement by using an antenna array. It inspired a decade of research and standard development in resource allocation and cross-layer control of MIMO wireless networks that dramatically impacted almost all the current and future wireless communications system design with multiple antennas.
Origin Wireless partnered with Belkin to deploy to over 150 countries worldwide Linksys Aware, a CES 2020 Innovation Awardee, to enable WiFi to perform motion detection for home security. The company is partnering with many Fortune 500 companies to deliver wireless sensing solutions to major carriers and working with major automakers to enable millions of cars to detect children left in hot cars to save lives. Prof. Liu's device-free wireless AI offers an excellent solution to make life better for millions of people.
As the founder of Odyssey Technology in 1997, he developed the world's first digital surveillance system through the Internet when the only available surveillance systems were all analog systems. His vision started the digital revolution in the surveillance industry over 20 years ago, leading to where we are today. Its product "Remoteeyes" was the world's first digital video surveillance system to remotely monitor and secure home/office through the Internet. The system was immediately adopted worldwide and used by many major chain stores and banks. Its lasting impact can be readily evidenced from the current ubiquitous uses of surveillance cameras.
Professor Liu, who was recently named IEEE 2021 President-Elect and 2022 IEEE President, has been recognized internationally with numerous awards, including the IEEE Signal Processing Society 2009 Technical Achievement Award, the IEEE Signal Processing Society 2014 Society Award, and the 2016 IEEE Leon K. Kirchmayer Graduate Teaching Award. He has been recognized by Web of Science as a Highly Cited Researcher, and he is a fellow of IEEE, AAAS, and the National Academy of Inventors.
Published November 3, 2020