UM, Army Sign CRADA Agreement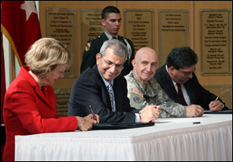 The University of Maryland and the U.S. Army Research, Development and Engineering Command (RDECOM) officially joined forces to expand research, development and engineering efforts by signing a Cooperative Research and Development Agreement (CRADA) on Tuesday, September 28. The CRADA builds upon already existing working relationships with the university while increasing the understanding of the transforming missions and functions of Aberdeen Proving Ground, where RDECOM is headquartered. The ceremony took place in the rotunda of the Jeong H. Kim Engineering Building.
The RDECOM vision is to be the Army's primary source for integrated research, development and engineering capabilities. Army officials said Aberdeen Proving Ground has the potential to become one of the leading science and technology centers in the nation; however, educational institutions are needed as partners working toward a mutually beneficial future.
The first statement of work, "Research and Development of Systems Engineering Models, Methods, Practices and Principles," emphasizes the various types of systems that Army scientists and engineers deal with across the spectrum of systems, such as real-time, non-real-time, deeply embedded, stand alone, and networked. Within the university, the Institute for Systems Research has a 25-year track record of cross-disciplinary research committed to developing basic solution methodologies and tools for systems problems, making it the ideal partner in this endeavor.
Darryll Pines, dean of the A. James Clark School of Engineering and Farvardin Professor, was the master of ceremonies. University of Maryland Acting President and Provost Nariman Farvardin gave remarks; as did RDECOM Commanding General, Major General Nick Justice; and Christian Johansson, secretary of Maryland's Department of Business and Economic Development.
Farvardin and Justice signed the CRADA agreement, while the accompanying Statement of Work document was signed by Norma Allewell, acting vice president of research, University of Maryland; and Gary Blohm, director, Communications‐Electronics Research, Development, and Engineering Center. The University of Maryland Reserve Officer Training Corps served as official color guard during the ceremony.
Others in attendance included:
Asuntha Chiang-Smith, executive director of the Governor's Cabinet on BRAC

James Lyons, Maryland Secretary of Higher Education and John Stephenson, the Higher Education BRAC Coordinator

From the U.S. Army Research Laboratory, John Pellegrino, director of the Sensors and Electron Devices Directorate; and Jay Gowens, a long-time friend of the university and director of the Computational and Information Sciences Directorate

From CERDEC—the U.S. Army Communications-Electronics Research, Development, and Engineering Center—David Jimenez, the Associate Director for Systems Engineering; and Walter Lucchesi, CERDEC's principal investigator on the CRADA agreement

John Baras, the University of Maryland's principal investigator on the CRADA agreement

Reza Ghodssi, director of the Institute for Systems Research

The president of the Army Alliance at the Aberdeen Proving Ground, Bernard Michel
Published September 28, 2010