Rabin to Receive President's Medal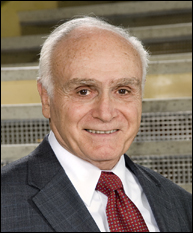 Professor Herbert Rabin, director of the Maryland Technology Enterprise Institute (Mtech), senior associate dean and former interim dean of the Clark School,
will receive the President's Medal
from interim campus president Nariman Farvardin at the Faculty and Staff Convocation ceremony on October 12 in the Memorial Chapel.
The award is the highest bestowed by the university and recognizes a member of the College Park community who has made extraordinary contributions to the social, intellectual and cultural life of the campus.
Rabin was the founding director of Mtech, a program established to bridge between the University and industry, to foster the development of new technology-based companies, and to promote entrepreneurship among faculty and students. He served as the interim dean of the Clark School from 1999 to 2000 and from 2007 to 2009.
William Fourney, professor of mechanical engineering, associate dean and head of the Office of Undergraduate Student Retention, won the award in 2006.
Published September 27, 2010