Three Clark School Faculty Promoted to Full Professor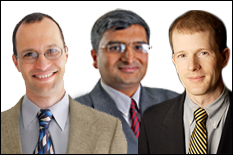 Three faculty in the A. James Clark School of Engineering were promoted to the rank of full professor:

Dr. Jaydev P. Desai, Department of Mechanical Engineering (ME), joined the faculty at the Clark School in 2006. He studies medical robotics, haptic interfaces for robot-assisted surgery, surgical simulation, model-based teleoperation, and cellular surgery. Dr. Desai is also the director of the Robotics, Automation, and Medical Systems (RAMS) laboratory.
Dr. Thomas E. Murphy, Department of Electrical and Computer Engineering (ECE), joined the Clark School faculty as an assistant professor in August 2012. His research interests include nonlinear optics, optical communications, nonlinear dynamics, microwave photonics and terahertz technology. In addition to his role of ECE professor, Dr. Murphy serves as the director of the Institute for Research in Engineering and Applied Physics (IREAP) at the University of Maryland.
Dr. Benjamin Shapiro, Fischell Department of Bioengineering (BioE) and Institute for Systems Research (ISR), joined the faculty at the Clark School in 2003. His research focuses on all aspects of miniaturized-system control, from initial determination of the dominant physics, to model development, control problem statement and algorithm design, to experimental verification.
For more information about the professors' research, please visit their websites:
Dr. Desai: ter.ps/2np
Dr. Murphy: ter.ps/2nq
Dr. Shapiro: ter.ps/2nr
Published June 5, 2013