Tackling Head Injuries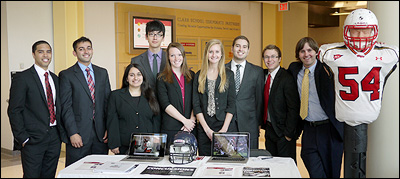 Story by Karen Shih, Office of University Publications. Reproduced with permission from Terp, Fall 2012, pp. 26-27.
Maryland quarterback Jordan Steffy spent nearly half of 2007 in a daze. Months after an illegal helmet-to-helmet hit at Rutgers left him with the most severe concussion of his career, he would come out of class with no idea where he was going next. He forgot names and assignments and suffered constant headaches.
"It was frustrating and scary," says Steffy '08, M.A. '09. "I wasn't able to function normally."
Now an undergraduate team from the Fischell Department of Bioengineering, spurred by department benefactor Robert E. Fischell M.S. '53, honorary Sc.D.'95, is working on a device they hope will keep future generations of football players from suffering the same kind of debilitating injuries.
The students are developing a helmet attachment that connects the back of the helmet to the shoulder pads and contours to the neck. It's filled with a liquid that gives players free movement while in motion but solidifies upon major impact. This locks the neck in place, forcing the body to bear the brunt of the hit and keeping the brain and the skull aligned, reducing the risk of a concussion. Research suggests that concussions occur when an action forces the head to whip or jerk violently, causing the brain to crash into and scrape along the inside of the skull.
"We all watch football so we knew this was a huge problem in the NFL," says team member Azam Ansari. "Talking to local high school teams, we learned from one coach that at least a quarter of his team had also had a concussion."
The suicide of famed linebacker Junior Seau in May, just two years after he left the NFL, once again brought the issue into the national spotlight. More than 2,000 retired NFL players have sued the league, accusing it of covering up the extent that football head trauma is linked to long-term damage. This damage includes personality changes and emotional distress, physical problems like headaches and issues with balance, and a condition called chronic traumatic encephalopathy, a degenerative brain disease that mimics dementia.
Fischell approached the team last fall to work on a solution. A prolific inventor, he holds more than 200 patents, including ones for life-saving devices like the modern medical stent, lifetime pacemaker batteries and implantable insulin pumps.
"I'm always asking questions and when I hear of a problem, my mind sees a solution," he says. "I'm so proud of my department and those terrific kids, and I wanted to give them a chance to develop a new invention."
Creating the attachment was part of the students' capstone course, which allows senior engineering teams to take their designs from concept to product. The team includes Ansari and Dana Hartman, who will graduate in December, along with Laith Abu-Taleb, Ryan Haughey, Karan Raje, Adam Zviman, David Kuo, Julie Loiland and Afareen Rezvani, who all graduated in May. They are advised by mechanical engineering professor Kenneth Kiger, an expert in fluid mechanics.
They've created two prototypes and are continuing to refine their design. They've also formed a company, Guardian Helmets LLC, with Fischell and Kiger, to guide this work.
"We want this to be something you can buy at Dick's Sporting Goods," says Zviman, now a student at the University of Maryland School of Medicine. Everyone from Pee-Wee to NFL players will be able to use it, he says.
Today, Steffy has moved on from football. He's doing well as the president of the Children Deserve a Chance college preparatory nonprofit, but he's still wary about the effects of years of hits on the field.
He grapples with this question: "If I have kids myself, would I be willing to let them play?"
With this new attachment, the answer might just be yes.
Published October 17, 2012