Students Get Ready for Advanced Degrees at GEM GRAD Lab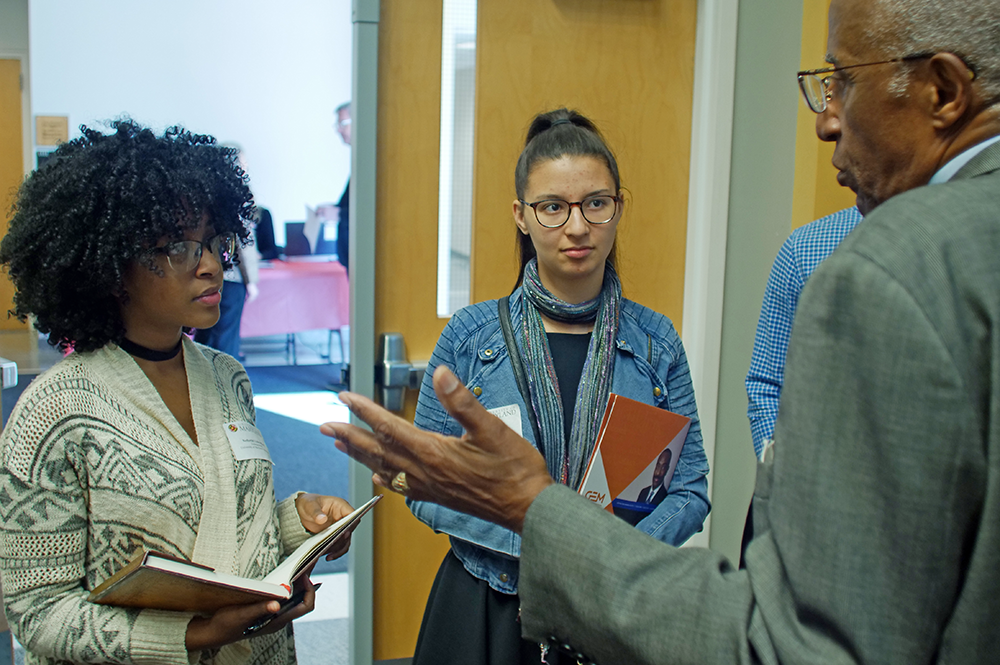 On October 21, the National GEM Consortium GRAD Lab (Getting Ready for Advanced Degrees Laboratory), sponsored by the National Socio-Environmental Synthesis Center (SESYNC) and co-hosted by the University of Maryland's A. James Clark School of Engineering and the College of Computer, Mathematical, and Natural Sciences (CMNS), drew approximately 80 students from across the Maryland–DC–Virginia area to learn about and prepare for graduate school.
"Being here today ... will enable you to envision your future as leaders in research and technology," said Clark School Dean and Farvardin Professor of Engineering Darryll J. Pines. "One may say that I stand here as dean of the college of engineering now, because I attended a GEM event 32 years ago."
Designed for underrepresented groups (African Americans, American Indians, and Hispanic Americans), GRAD Lab—GEM's signature undergraduate program—encourages students to pursue a graduate degree in science, technology, engineering, and mathematics (STEM), to apply for a GEM fellowship, and to seek other financial resources.
The GRAD Lab, hosted at UMD's College Park campus, featured four sessions that covered the benefits of earning a Ph.D., how to apply to graduate school, how to fund graduate school, and advice from current students and postdocs. It also allowed time for attendees to network with conference speakers and each other, and to speak with representatives from the graduate programs of the sponsoring schools.
"With a Ph.D., you can go from where you're sitting to where you dream of," said Howard G. Adams, former GEM executive director. "Don't get stuck in normal; get to exceptional, in everything that you do."
As sponsors and hosts of the event, SESYNC and UMD hope to see an increase in the number of minority students entering graduate school for STEM-related degrees.
SESYNC hopes to draw attention to the socio-environmental field of study and to emphasize their desire for more minority groups in this area. As the socio-environmental field deals with interdisciplinary issues, it is vital to have scholars from a variety of disciplines and backgrounds to make a real impact.
For the Clark School, co-hosting the GRAD Lab was one of many efforts made to ensure diversity and inclusion within the college, affirming that minority groups are highly desired in the Clark School community and in graduate-level education. Rosemary Parker, director of the Clark School's Center for Minorities in Science and Engineering (CMSE), said, "The GEM GRAD Lab is a great way to get students excited about graduate school. This year was particularly rewarding, because one of our alumni from the Louis Stokes Alliances for Minority Participation (LSAMP) Program, Dr. Shakira Hobbs, was a panelist on the Voices from the Field session."
Also co-hosted by Morgan State University and University of Virginia, the October event attracted more than just UMD students. In addition to students from co-host institutions, students traveled from the University of the District of Columbia, University of Maryland-Baltimore County, Virginia Commonwealth University, and Coppin State University.
GEM was founded in 1976 at the University of Notre Dame to enhance the value of the nation's human capital by increasing the participation of underrepresented groups at the master's and doctoral levels in engineering and science. GEM has worked to graduate more than 3,000 researchers, professors, entrepreneurs, inventors, and business leaders, including 200+ men and women with doctorates in physical sciences, life sciences, and engineering.
Published November 20, 2017