Opening Apps to All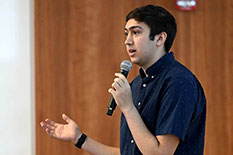 A re-engineered Spotify experience that helps people with autism better access the calming power of music took top honors in the first Amazon-University of Maryland Design Challenge, a University System of Maryland (USM) student competition to redesign an app, website or experience for a more inclusive world.
Developed by UMD electrical and computer engineering major Elyas Masrour, the streamlined Spotify concept was one of just three entries, selected from 40 proposals, that earned a spot Friday morning in UMD's Amazon Day symposium. Masrour grabbed first place—and $2,500—through a live poll on Friday by Amazon employees and UMD faculty, administrators, students.
"I was so energized by what I saw today," said Angel Enriquez, director of DEI Devices & Services at Amazon. "I was chiming my friends at Spotify and Amazon Music that we've got some ideas (for them) over here."
Sponsored by Amazon and the A. James Clark School of Engineering's Center for Minorities in Science and Engineering (CMSE), the Design Challenge seeks to break down barriers in product design that prevent universal experiences for individuals due to ability, race, gender or other differences. Open to all undergraduates across the USM and institutions in the National Science Foundation-funded Louis Stokes Alliances for Minority Participation, the design challenge requires no technical skill—just good ideas. With guidance from Amazon's design team, students researched and plotted to build a better, more inclusive product that offers an enriching, universally accessible, even transformative experience.
"We are strongest when we embrace voices, ideas and experiences from across our community," said Senior Vice President and Provost Jennifer King Rice. "I am truly grateful to Amazon for seeing the rich potential in UMD's talent. Together, we can do more."
"The Reason I Jump," a documentary that examines the successes and struggles of nonverbal autistic people, was the inspiration for Masrour's design by demonstrating how technology could radically change how individuals with autism engage with the world. When research pointed to music as a powerful way for people with autism to alleviate the crushing assault of surrounding sights, sounds and input of the world around them—a common struggle called "sensory overload"—Masrour set his sights on Spotify, the world's leading music app and home to an active community of autistic users. But because many in the autism community—over 80% in some studies—also struggle with motor difficulties, fiddly app user interfaces can be frustrating for people incapable of precisely using a touchscreen densely packed with controls.
Masrour's more inclusive redesign relies on "nesting" groups of buttons to reduce the number of options per page while increasing their size. The streamlined screen places the most important actions—search, playlists and settings—front and center, and prioritizes controls such as volume, pause, fast forward and rewind. The concept, he said, has potential to extend beyond a soothing playlist by helping individuals connect on social media apps such as Facebook or Reddit, navigate streaming apps like Netflix or order food through UberEats. Nesting options and bigger buttons can also benefit individuals with arthritis, visual impairments or other physical disabilities.
"This project started with a limited scope," said Masrour. "It really just scratches the surface for how inclusive Spotify can be, but hopefully is a step in the right direction."
A revamp of UMD's NextBus app by a UMD-University of Maryland, Baltimore County team took second place, leveraging features like voiceover, zoom, assistive touch and an offline feature to help individuals with physical disabilities secure reliable rides on Shuttle-UM. The third-place team, composed of UMD students, also took on Spotify, this time for those who are hearing impaired. Their prototype demo showed an audio accessibility screen, with controls that allow users to customize audio settings for each ear.
The event highlights the growing partnership between Amazon and the University of Maryland, as well as Amazon's investment in creating more diversity and representation in STEM-related fields. Last year, Amazon launched AmazonNext in partnership with CMSE, the company's first pilot program to increase enrollment and retention of underrepresented minority students in STEM majors.
"Partners like Amazon help our students, faculty and staff cultivate the creativity we need to solve society's greatest challenges," said Clark School Dean Samuel Graham. "We're excited about and appreciative of this investment in Maryland and look forward to growing a diverse and talented pipeline of engineers, one that better reflects the people and communities we serve."
This article originally appeared in Maryland Today.
Published April 12, 2022